SJTC to Perform at the 36th IAJGS  International Conference on Jewish Genealogy at the Seattle Sheraton, August 9: From Door to Door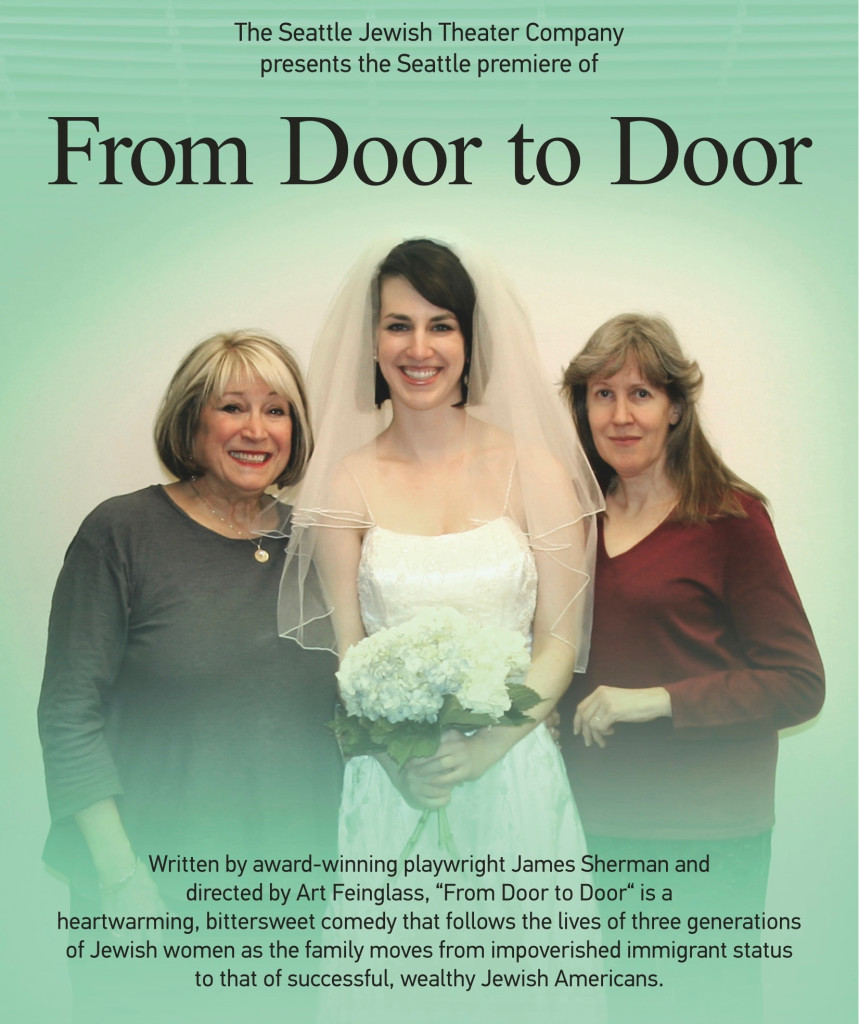 On August 9, 2016, SJTC will reprise its performance of James Sherman's From Door to Door for the annual conference of the International Association of Jewish Genealogical Societies attended by some 1,000 people at the Sheraton Seattle Hotel.
SJTC Presents "Jewish History Live" at the IAJGS  Conference, August 7
The company will also present its "Jewish History Live program" in which SJTC actors portray Jewish merchants who came to Seattle a century ago from Russia, Turkey and Germany to build their lives and the Seattle Jewish community. In costume and in character, cast members will engage conference attendees and share stories of their experiences. The program was a hit at the Museum of History and Industry where it was performed two years ago for the Washington State Jewish Historical Society gala and it promises to be be a great way to tell the Seattle Jewish community's story to the international audience of conference attendees.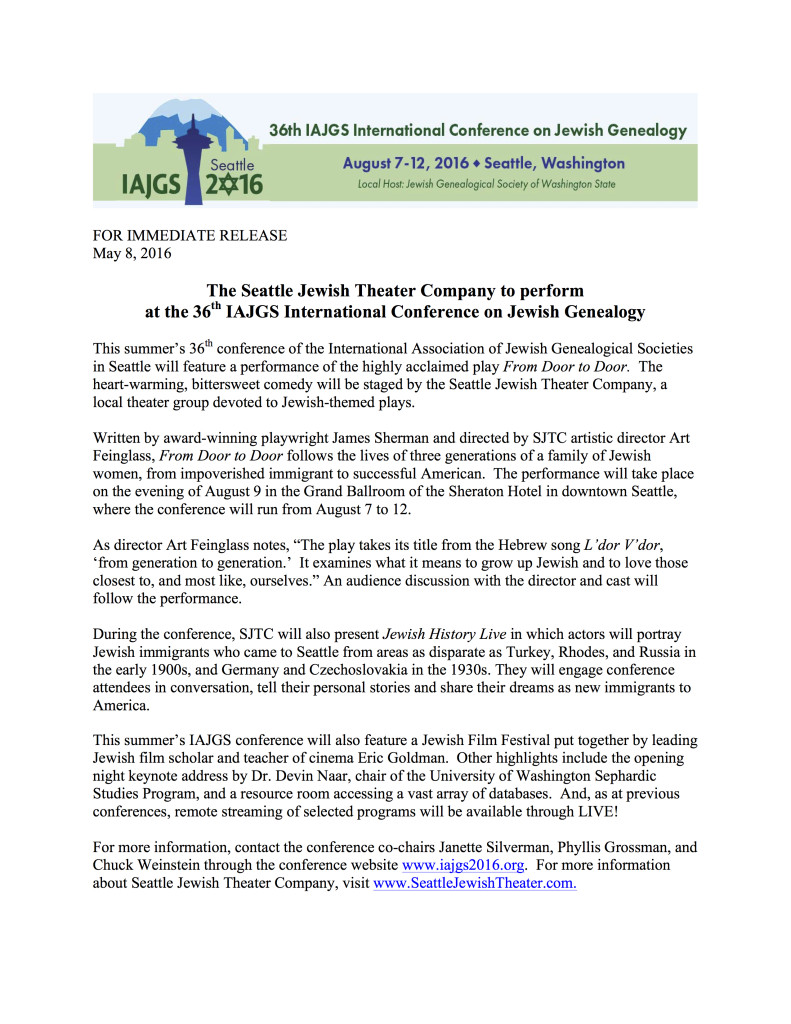 In October 2016 SJTC will return to the stage of the University of Washington's Ethnic Cultural Theater for a performance of another classic Jewish play.  The staged reading of Mirele Efros written by acclaimed Yiddish playwright Jacob Gordiin, was very well received and sparked lively audience discussion following the performance.  SJTC looks forward to continuing the tradition of presenting great Jewish theater for the University of Washington's Stroum Center for Jewish Studies.
Seattle Premiere Spring 2016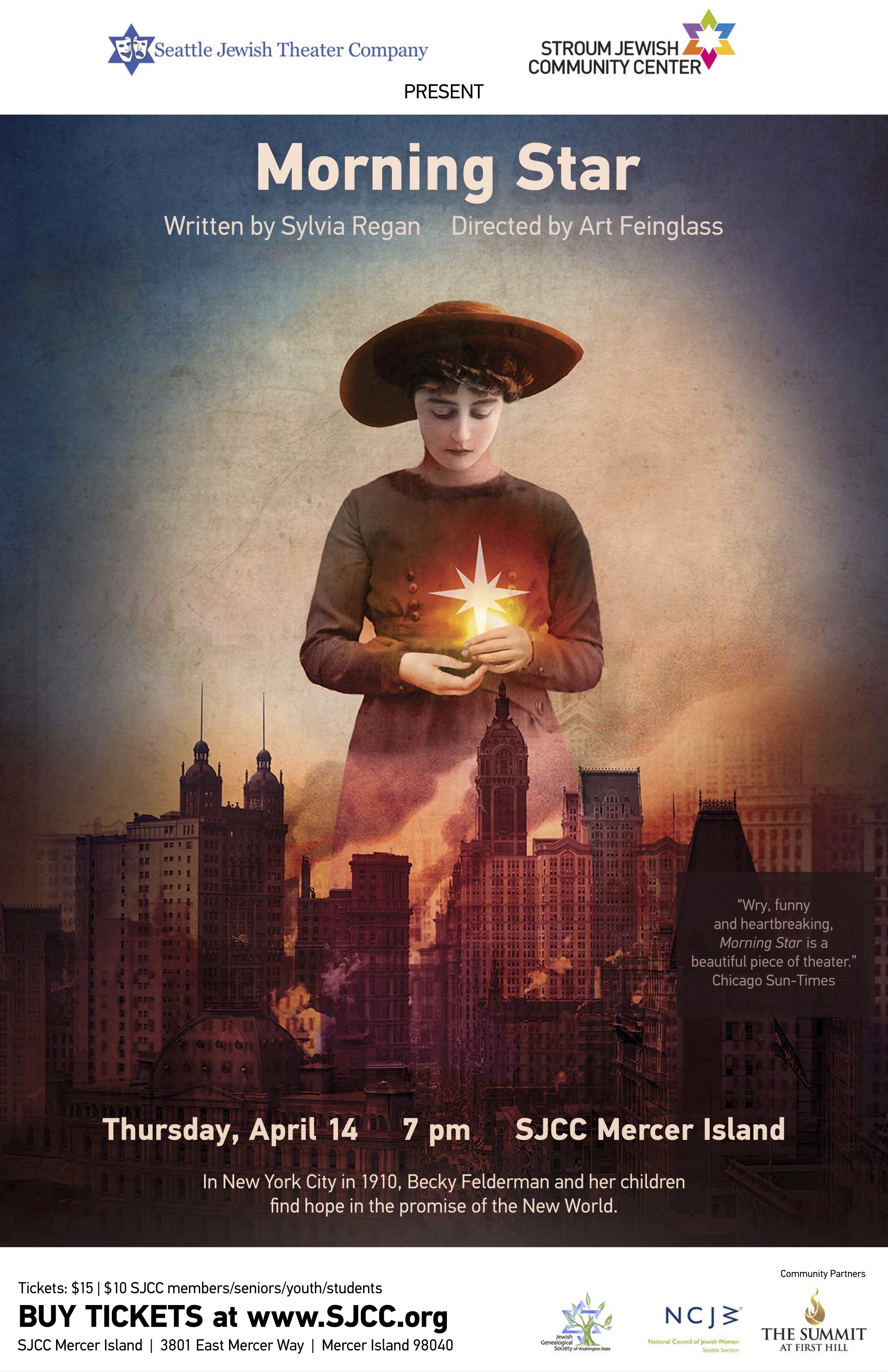 Morning Star follows a family of Jewish immigrants in New York City, from 1910 to 1931.  Their struggles epitomize the immigrant experience as they encounter the tragedy of the Triangle Shirtwaist Factory fire, World War I, the Great Depression, and the labor movement. A critical and commercial success when it premiered on Broadway in1940, the play has become a classic, revived with successful runs in New York, Chicago, Boston, Los Angeles, Tel Aviv and Buenos Aires.
"Wry, funny and often times heart-breaking, Morning Star is a beautiful piece of theater and a lesson in respecting the people whose lives and dreams comprise American history."  Chicago Sun-Times
Performance Schedule
Saturday, March 12, 8:00 p.m.  University Prep Theater, 8000 25th Avenue NE, Seattle (Wedgwood). Sponsored by Temple Beth Am and Congregation Beth Shalom. Tickets $15/$10 at www.brownpapertickets.com/event/2489241
Saturday, March 19, 7:30 p.m. Kenyon Hall, 7904 35th Avenue Southwest, Seattle (West Seattle). Tickets $14 – $5 at www.kenyonhall.org
Sunday, March 27 2:00 p.m. Seattle Public Library, Northeast Branch, 6801 35th Avenue, Seattle (free admission) https://www.spl.org/calendar-of-events.
Sunday, April 3, 2:00 p.m. Temple B'nai Torah, 15727 NE 4th St. Bellevue                (See TBT flyer below) https://www.templebnaitorah.org/whats_happening
Friday, April 8, 1:30 p.m. Preview at Seattle Jewish Film Festival, SJCC,3801 East Mercer Way, Mercer Island. www.SJCC.org
Sunday, April 10, 2:00 p.m. Congregation Ezra Bessaroth, 5217 S. Brandon Street, Seattle (Seward Park) Tickets $15/$10 at http://www.ezrabessaroth.net/
Thursday, April 14, 7:00 p.m. SJCC, 3801 East Mercer Way, Mercer Island.       Community Partners: Jewish Genealogical Society of Washington State and The Summit Tickets $15/$10 at, http://sjcc.org/cultural-arts/theater/
Sunday, April 17, 2:00 p.m. Shalom Club at Trilogy, Redmond                    (Performance for residents)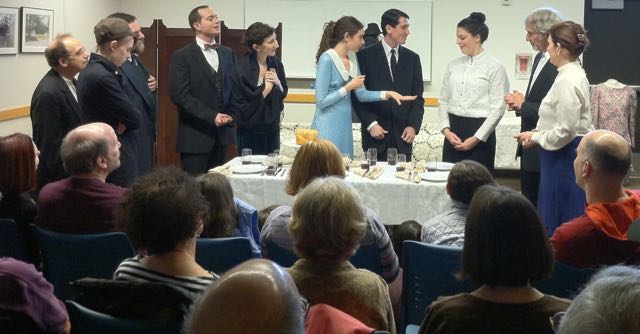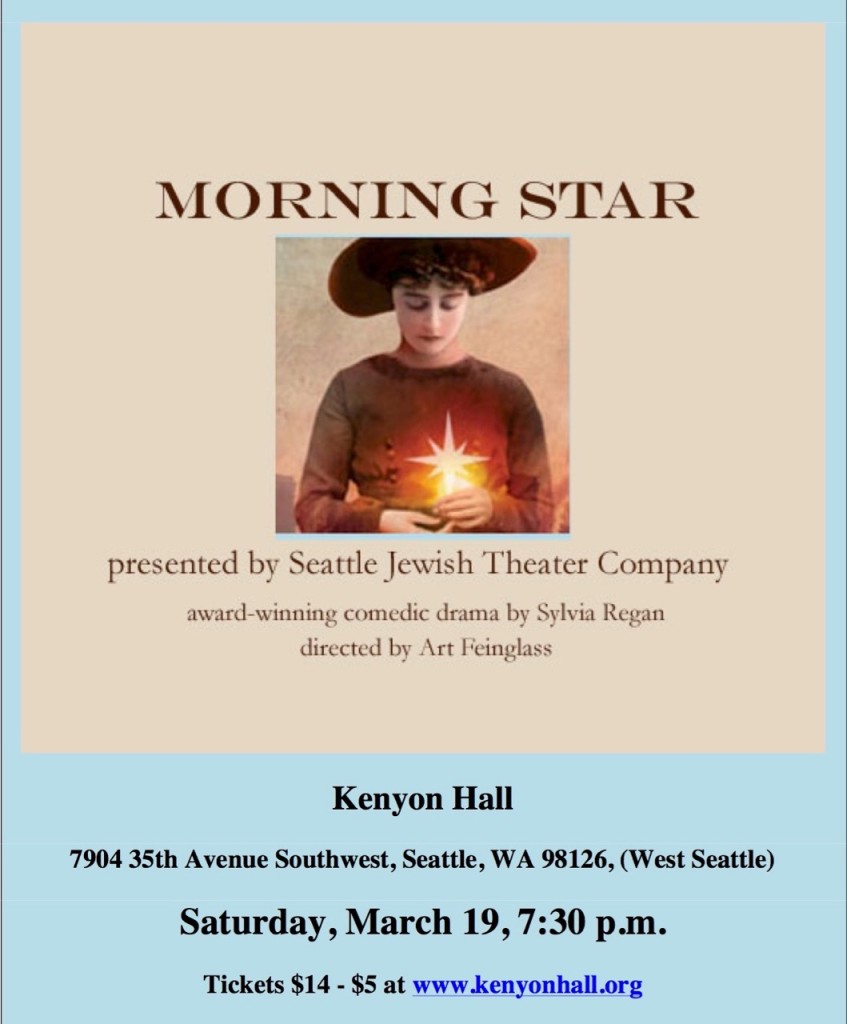 The Cast
Becky Feldeman                                Lori Stein
Fanny Felderman                              Deborah Hathaway
Irving Tishman                                  Andy Kaplan
Sadie Felderman                               Emma Wilkinson
Aaron Greenspan                              Stephen Montsaroff
Harry Engel                                       Dani Michael Miller
Myron Engel                                      Adrien "Mick" Gamache
Esther Felderman                              Daisy Schreiber
Hymie Felderman at 13                    Sophie Klemond
Hymie Felderman at 19                    John Paul DeGennaro
Hymie Tashman at 13                      James Brammer
Benjamin Brownstein                       Marc Mayo
Kathleen Connelly                            Mary Brown
 The Crew
Director                                            Art Feinglass
Stage Manager                                Brendan O'Connor
House Manager                               Joan Golston
Costume Designer                           Ede Bookstein
Just in time for Passover, a new children's book
by SJTC  artistic director Art Feinglass

Why is this seder night different from all other seder nights? Because tonight their search for the missing afikoman takes Milo and Eli on an adventure into a magical world where their toys come to life.
The seder cannot be completed until they retrieve the afikoman, but to do that they must hike a mountain trail, push through a jungle and cross a lake to a distant castle. On their adventure they engage in a banana fight with a troop of laughing monkeys, help a friendly snake find its lost tail and fend off an attack by the dreaded "thingamabobs." Join Milo and Eli on their exciting quest in The Afikoman Adventure.
Beautifully illustrated, this is an engaging story for children ages 3 – 8.
Arthur Feinglass wrote The Afikoman Adventure as a Passover present for his grandsons Milo and Eli. His previous books include The Lonesome Dreidel, written as a Chanukah present for his grandchildren Talya and Aitan. Born in New York, he lived on a kibbutz in Israel's Negev desert and later taught Jewish Literature and Film at Hebrew Union College in New York before becoming a full-time playwright and producer. He is the founder and artistic director of the Seattle Jewish Theater Company.
Available on Amazon at,
http://www.amazon.com/s/ref=nb_sb_noss?url=search-alias%3Daps&field-keywords=arthur+feinglass.