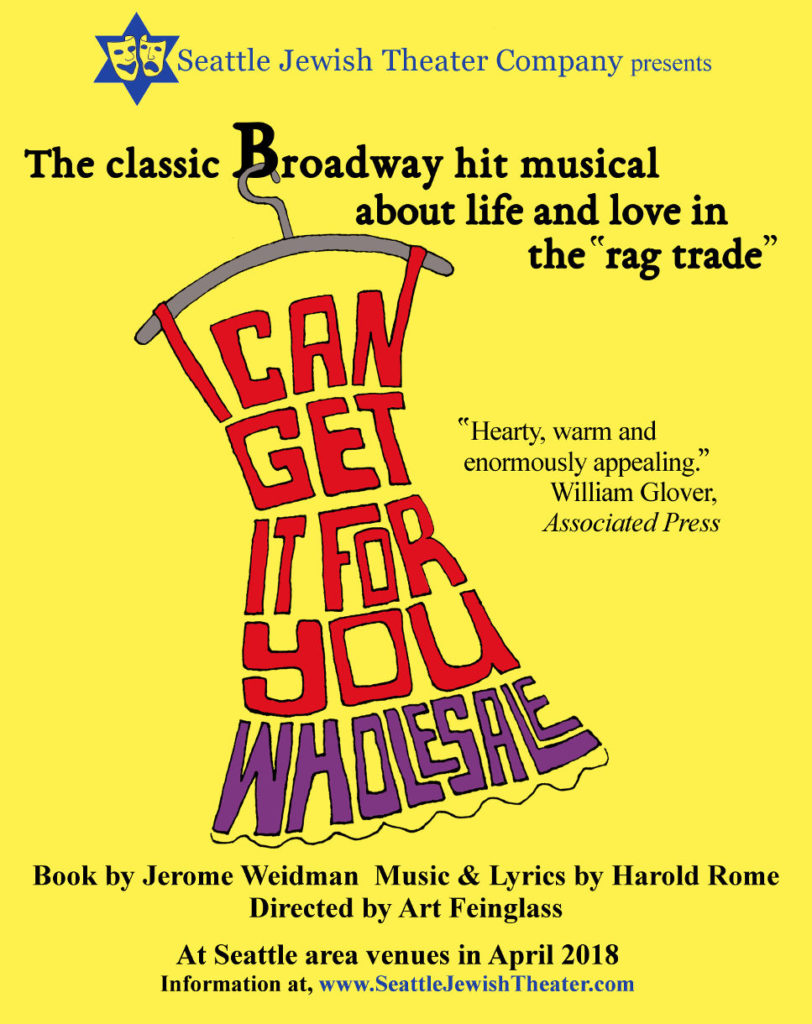 This spring the Seattle Jewish Theater Company, now in our eighth year, will present   "I Can Get It For You Wholesale" at venues throughout the Seattle area. This classic Jewish musical is set in New York's garment district in 1937. It was a critical success and a  hit on Broadway in 1962, ran 300 performances, and launched the careers of Elliott Gould and Barbra Streisand.
Based on the 1937 novel by Jerome Weidman who adapted it for the hit musical, "I Can Get It For You Wholesale" features a winning score by Harold Rome. It was later remade as a film starring Susan Hayward.
The Seattle Jewish Theater Company production is being directed by the company's artistic director,  Art Feinglass.  Musical director is Sunga Rose. Accompanist is Andy Kaplan.
Some photos taken at rehearsals.
Performance Schedule, Spring 2018
Sunday, April 8, 2:00 p.m., Shalom Club at Trilogy, performance for residents, Redmond.  
Sunday, April 15, 3:00 p.m., Temple B'nai Torah, 15727 NE 4th St., Bellevue.  Free.
Sunday, April 22, 2:00 p.m., University Prep Theater, 8000 25th Avenue NE, Seattle (Wedgwood). Sponsored by Temple Beth Am and Congregation Beth Shalom.  Tickets $18 /$12 students & seniors at,                    https://www.brownpapertickets.com/event/3326244
Saturday, April 28, 7:30 p.m., Kenyon Hall, 7904 35th Avenue Southwest, West Seattle. Tickets $14 – $5 at www.kenyonhall.org
Sunday, April 29, 2:00 p.m., Microsoft Auditorium, Central Branch, Seattle Public Library 1000 Fourth Ave., Seattle. Free.
Sunday, May 6, 2:00 p.m., SJCC, 3801 East Mercer Way, Mercer Island.               Tickets at the door, $15 / $10 SJCC members, seniors, youth, students
For more information contact, SeattleJewishTheaterCompany@gmail.com.
A cast of talented local actors brings this award winning musical to life:
The Cast
Harry Bogen                 Zack Chaykin
Mrs. Ida Bogen             Sunga Rose
Ruthie Rivkin                Chloe Cavendar
Meyer Bushkin               Mark Abel
Blanche Bushkin             Dana Benson
Sheldon Bushkin             Sage Overbay
         Teddy Asch               Michael Faigenblum
Miss Marmelstein          Kiela Mellott
      Martha Mills                Sarah Fairchild
Tootsie Maltz                 Jim Quatier
Maurice Pulvermacher    Walter Kuciej
Edy/Gail               Jessica Erin McCoy
Manette                          Hannah Nielsen
The Crew
Andy Kaplan, Accompanist
Joan Golston, House Manager
Brendan O'Connor, Stage Manager
A favorite with audiences when it ran on Broadway, the show also garnered major critical acclaim:
"A bargain retail … Hearty, warm and enormously appealing." W. Glover, Associated Press
"The best thing of 1962." Leon Pearson, NBC
"Should be seen by playgoers who respect quality theater." R. Cooke, Wall Street Journal
"More times than you can count, you are touched to the point of tears, dissolved in tenderness, or excited to a point of breathlessness. Actually you do not watch I Can Get It For You Wholesale. You are in it." Norman Nadel, New York World Telegram & Sun
For more information contact, SeattleJewishTheaterCompany@gmail.com.

Celebrate Channukah and Passover with Children's Books
by SJTC  founder and artistic director Art Feinglass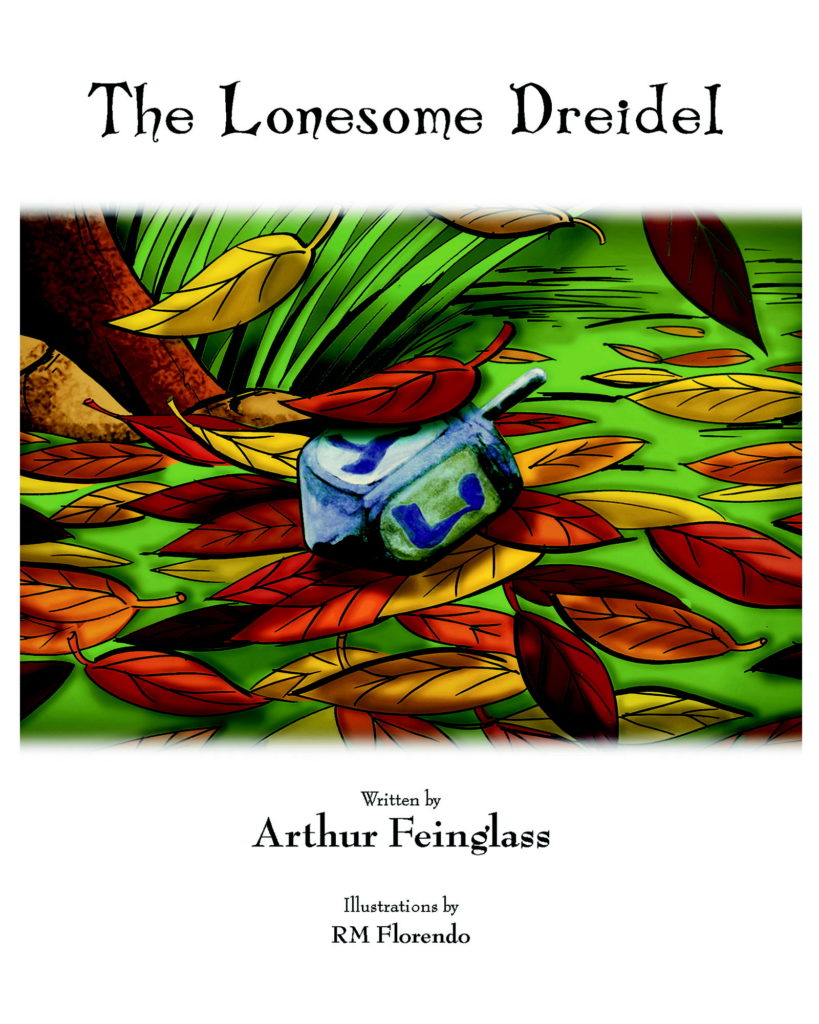 When Talya and Aitan find a lost and lonely magical talking dreidel, they're off on an exciting Chanukah adventure to find the little dreidel a new home. Along the way they meet a curious squirrel and a noisy crow, and learn how to play the dreidel game. But will they find the Lonesome Dreidel a good home in time for Chanukah? Beautifully illustrated, this is an engaging story for children ages 2-5 that includes a guide to playing the dreidel game.

Why is this seder night different from all other seder nights? Because tonight their search for the missing afikoman takes Milo and Eli on an adventure into a magical world where their toys come to life.
The seder cannot be completed until they retrieve the afikoman, but to do that they must hike a mountain trail, push through a jungle and cross a lake to a distant castle. On their adventure they engage in a banana fight with a troop of laughing monkeys, help a friendly snake find its lost tail and fend off an attack by the dreaded "thingamabobs." Join Milo and Eli on their exciting quest in The Afikoman Adventure. Beautifully illustrated, this is an engaging story for children ages 3 – 8.
The Lonesome Dreidel  and The Afikoman Adventure are available on Amazon at,
http://www.amazon.com/s/ref=nb_sb_noss?url=search-alias%3Daps&field-keywords=arthur+feinglass.
A Classic of Jewish Theater, Spring 2017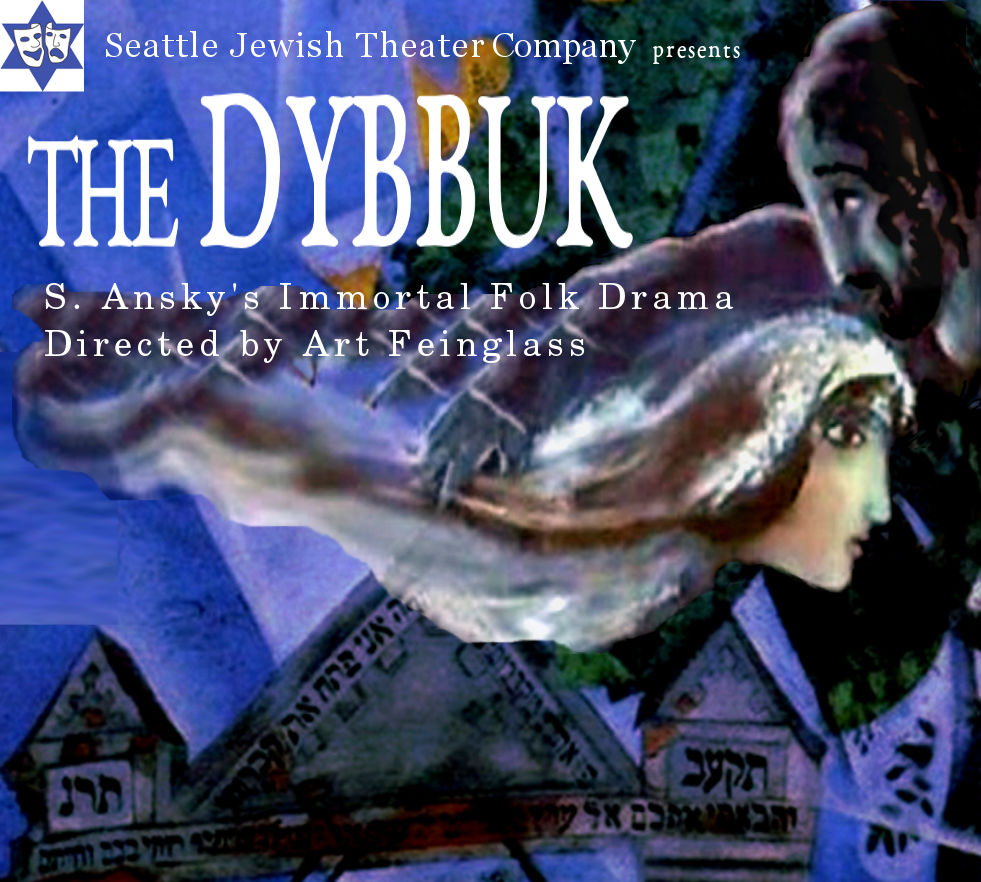 The Seattle Jewish Theater Company presented The Dybbuk at venues throughout the Seattle area in March, April and May 2017. Regarded as the greatest classic of Jewish drama, The Dybbuk was written by S. Ansky and directed by SJTC artistic director Art Feinglass, The Dybbuk is rooted in Jewish folklore. It tells a story of love caught between two worlds and a Jewish community dealing with mysterious, otherworldly forces.
The cast of 16 talented local actors did a terrific job of bringing this powerful story to life. Performances of The Dybbuk were a hit with audiences at the University Prep Theater in Wedgewood, the Shalom Club at Trilogy in Redmond, the SJCC on Mercer Island, the Microsoft Auditorium at the Central Branch of the Seattle Public Library, Temple B'nai Torah in Bellevue and on the amazingly small stage at Kenyon Hall in West Seattle.
Ansky wrote The Dybbuk during the turbulent years of 1912-17. The idea for the play came to him as he led a Jewish folklore expedition through the Jewish communities of the Pale of Settlement in Eastern Europe. The expedition was cut short by the outbreak of World War I. Plans to produce the play in Russian – by Stanislavsky's Moscow Art Theater – were aborted by the Bolshevik Revolution.
Ansky, died in 1920 and never lived to see it produced in Russian, Yiddish or Hebrew. The play, however, was destined to become one of the most produced in the history of Jewish theater. Ansky's fascination with rabbinical wisdom, spirituality and Jewish folklore are clearly evident in The Dybbuk. The playwas being performed in English.
The Dybbuk tells the story of a young bride in a Polish shtetl who is possessed by the spirit – a dybbuk– of her dead beloved. The bride, Leah, though betrothed by her ambitious father to a wealthy stranger, yearns for Chonnen, a troubled young scholar. Chonnen's frustration at being thwarted in love drives him to the secrets of the Kabbalah which he believes can unlock the hidden powers of the universe and enable him to marry Leah. But, as the plot unfolds, he finds there is a heavy price to pay for delving into secret things.
In the 100 years since it's creation, The Dybbuk has become a canonical work of Hebrew and Yiddish theater, has been translated into a score of languages and intrigued audiences around the world.  Performances at every venue were followed by a lively audience conversation with the director and cast.
The Seattle Jewish Theater Company, now in its seventh year, brings classic and contemporary Jewish theater to the Seattle area.
For more information contact:
Art Feinglass, Artistic Director
Seattle Jewish Theater Company
SeattleJewishTheaterCompany@gmail.com