"From Door To Door" Presented at International Jewish Genealogical Conference, August 2016

SJTC was invited to present an encore performance of From Door To Door for an international audience at the 36th annual conference of the International Association of Jewish Genealogical Societies at the Sheraton Seattle on August 9. We also presented preview performances, open to the public, at the Seattle Public Library's Northeast branch on July 24 and at Kenyon Hall in West Seattle on Saturday night, July 30.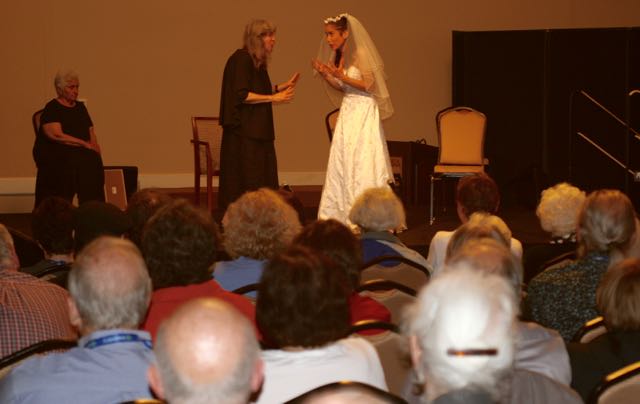 Written by award-winning playwright James Sherman, and directed by SJTC artistic director Art Feinglass, From Door to Door is a bittersweet comedy about three generations of Jewish women and the American dream. The play was performed by three talented local actors, Leah Vetter, Natalie Schmidt and Alice Bridgforth. Alice appeared in the earlier production. All performances were followed by a lively audience discussion with the director and cast.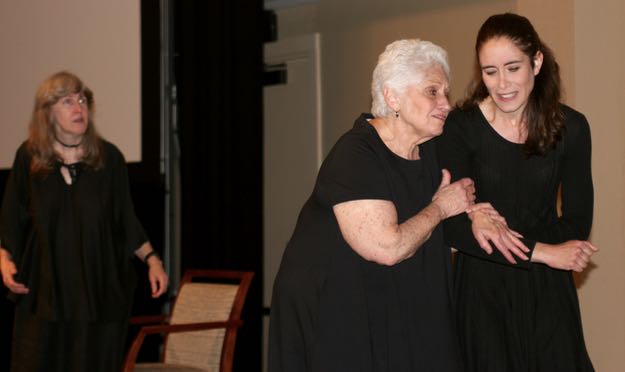 The play takes its title from the Hebrew song "L'dor V'dor" which means "From Generation to Generation." It examines what it means to grow up Jewish and to love those closest to, and most like, ourselves. SJTC brought From Door To Door to Jewish venues throughout the Seattle area two years ago to enthusiastic audience response. Conference planners thought the play especially fitting for an organization that deals with Jewish genealogy.
Jewish History Live
At the IAJGS conference SJTC also presented Jewish History Live, with actors portraying actual Jewish immigrants who came to Seattle from areas as disparate as Turkey, Rhodes and Russia in the early 1900's and Germany in the 1930's.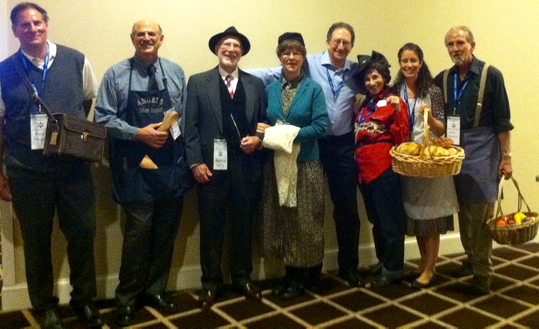 Left to right, Jeff Novack, Al Hillel, Ken Shiovitz, Rhona Feldman, artistic director Art Feinglass, Carol Sage Silverstein, Natalie Schmidt and Adrien Gamache. Not shown are Mark Mayo and Dawn Cornell who also portrayed actual merchants.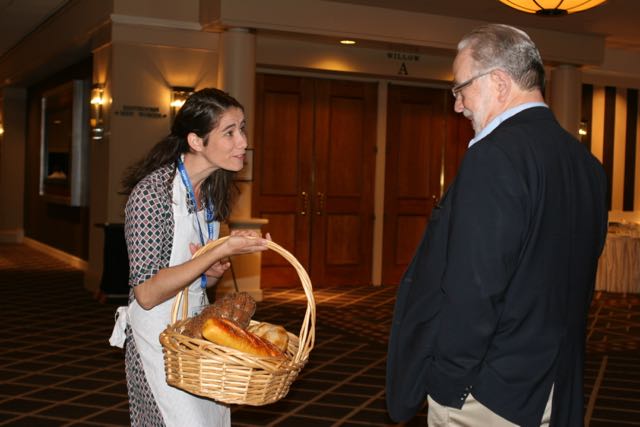 Natalie Schmidt portrayed Raye Alhadeff offering samples of fresh bread from her father's kosher bakery circa 1915.
Spring 2016: SJTC Brings "Morning Star" to Seven Seattle Area Venues

A cast of 13 talented Seattle area actors comprised the SJTC troupe that brought the Seattle premiere of Morning Star to seven venues in the Seattle area in March and April 2016.  Performances were staged for a variety of audiences, including Temple Beth Am, Congregation Beth Shalom in Wedgwood, Kenyon Hall in West Seattle, the Seattle Public Library's Northeast Branch, Temple B'nai Torah in Bellevue, The Summit, the Jewish Family Services' Endless Opportunities group, The Stroum Jewish Community Center on Mercer Island, the Jewish Genealogical Society of Washington Stare, the National Conference of Jewish Women, Congregation Ezra Bessaroth in Seward Park and the Shalom Club at Trilogy in Redmond.  The show's total audience was 833.  Reactions at every performance were enthusiastic and many audience members stayed after the show for a lively discussion with the director and cast.
The play follows a family of Jewish immigrants in New York City, from 1910 to 1931.  Their struggles epitomize the immigrant experience as they encounter the tragedy of the Triangle Shirtwaist Factory fire, World War I, the Great Depression, and the labor movement. A critical and commercial success when it premiered on Broadway in1940, the play has become a classic, revived with successful runs in New York, Chicago, Boston, Los Angeles, Tel Aviv and Buenos Aires.
"Wry, funny and often times heart-breaking, Morning Star is a beautiful piece of theater and a lesson in respecting the people whose lives and dreams comprise American history."  Chicago Sun-Times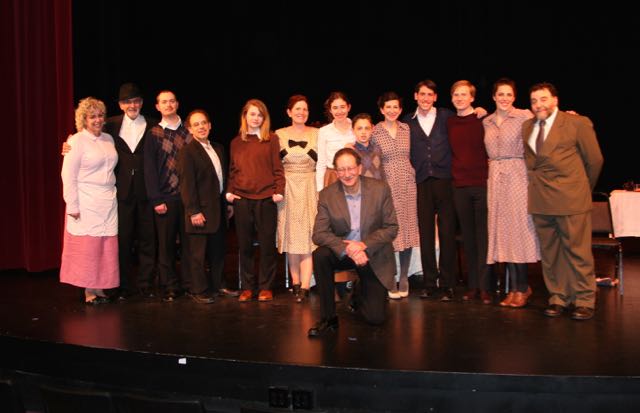 The Cast
Becky Feldeman                               Lori Stein
Fanny Felderman                             Deborah Hathaway
Irving Tishman                                 Andy Kaplan
Sadie Felderman                               Emma Wilkinson
Aaron Greenspan                             Stephen Montsaroff
Harry Engel                                       Dani Michael Miller
Myron Engel                                     Adrien "Mick" Gamache
Esther Felderman                             Daisy Schreiber
Hymie Felderman at 13                   Sophie Klemond
Hymie Felderman at 19                   John Paul DeGennaro
Hymie Tashman at 13                     James Brammer
Benjamin Brownstein                       Marc Mayo
Kathleen Connelly                           Mary Brown
The Crew
Director                                           Art Feinglass
Stage Manager                                Brendan O'Connor
House Manager                               Joan Golston
Costume Designer                           Ede Bookstein

On August 29th, the Seattle Jewish Theater Company presented a staged reading of a new play by Seattle and New York-based playwright Pat Lin, The Power of Two at the Green Lake Library. Set in Nazi-occupied Poland in 1943, The Power of Two is the story of a Polish Catholic housewife and a Jewish woman from the Warsaw Ghetto who are forced to confront their prejudice and fear to help each other survive.
An audience of some fifty people attended the staged reading which was directed by SJTC artistic director Art Feinglass. It was followed by a discussion with the author and with the cast which was comprised of SJTC veterans as well as newcomers to the company.
P.H. Lin's work has garnered many theatrical awards and her plays have been produced throughout the country. One of her recent plays, Zelda at the Oasis, about F. Scott Fitzgerald's troubled wife, has been published by Samuel French and enjoyed a fourteen-week run off-Broadway, earning many rave reviews of which the following is typical:
"P. H. Lin is one of the rising young Jewish American playwrights, and HOW FORTUNATE for New York City theatergoers!"  All About Jewish Theatre
Beau Jest, Spring 2015

In Spring 2015 the Seattle Jewish Theater Company brought the romantic comedy Beau Jest, written by James Sherman and directed by SJTC artistic director Art Feinglass, to seven venues around the Seattle area, entertaining a total audience of more than 1,100 people.  The flyer above lists the performance schedule.  The show was a hit everywhere and was declared a favorite by SJTC audiences.
The hard working cast had an equally hardworking Production Team to back them up, including House Manager Joan Golston, Production Manager Brendan O'Connor, Costume Designer Ede Bookstein, Lighting Designer Steve Cooper and Graphic Designer Siusan Beardsley.
We were back performing at some familiar venues,  including the SJCC on Mercer Island, the Seattle Public Library, The Summit and the University Prep Theater for two performances for Temple Beth Am. One Sunday we did a double header, both at spaces that were new to us, with an afternoon show for 103 people at the Shalom Club at Trilogy in Redmond followed by a quick drive across Lake Washington to do an evening performance attended by 70 people at Congregation Beth Shalom in Northeast Seattle.
For our final performance of the eight show run we were back at familiar haunts with an afternoon performance at Temple B'nai Torah in Bellevue. All of the performances of Beau Jest got plenty of well-deserved rave reviews from the audience for the very talented cast.
A Jewish Community-Wide Production
While not everyone in the cast and crew, or in the audiences, of SJTC productions are Jewish, the production was very much a community wide undertaking.  Members of four Seattle area synagogues were represented in the cast and crew of Beau Jest. They include cast member Al Hillel and production manager Brendan O'Connor of Temple Beth Am, house manager Joan Golston of Temple B'nai Torah, costume designer Ede Bookstein of Temple De Hirsch Sinai and assistant director Rhona Feldman of Congregation Beth Shalom.  Adding to the Jewish community involvement, leading lady Sara Schweid, who appeared in the previous year's SJTC production of another James Sherman comedy, "From Door to Door," is Social Media and Communications Coordinator at the Stroum Jewish Community Center on Mercer Island.
"Shalom, Open for Business" At MOHAI, September 2014

SJTC Actors Bring to Life Jewish Merchants from 100 Years Ago
On Sunday evening, September 7, 2014, SJTC presented a live, interactive program at the Washington State Jewish Historical Society's annual fundraising event at MOHAI, the Museum of History and Industry, to recreate an important aspect of local Jewish life over a century ago. Costumed in authentic styles of the times, SJTC actors portrayed actual merchants and business people and engaged in interactive scenes with guests at the event.
"From Door to Door"  Spring 2014

A Heartwarming Comedy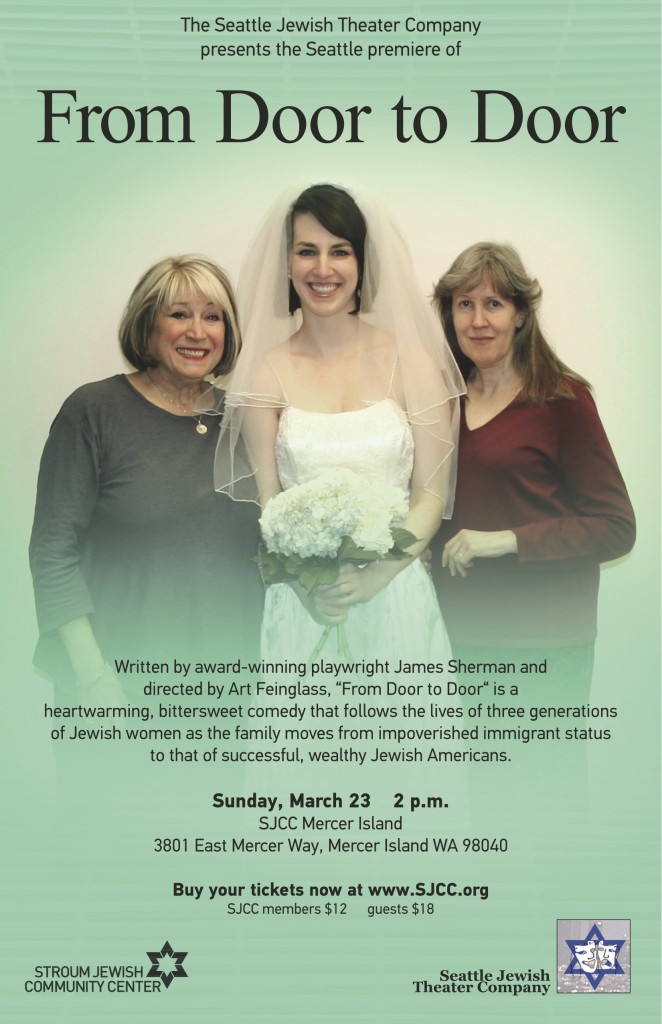 In March and April 2014, the Seattle Jewish Theater Company brought the Seattle premiere of "From Door to Door" to seven venues in the Seattle area including the Mormon LDS Factoria Building in Bellevue for a performance for the Washington State Jewish Genealogical Society. Written by James Sherman and directed by SJTC artistic director, Art Feinglass, "From Door to Door" is a warm, bittersweet comedy tribute to three generations of Jewish women. The play tells a universal tale of family secrets, lies and surprises.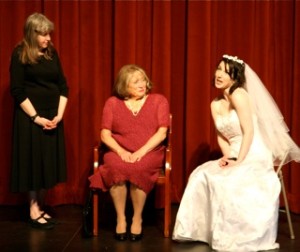 A trio of talented local actresses played the three women over the course of sixty-four years. Carolyn Cox, who recently appeared in the feature film "Switchmas" with Eliott Gould, plays grandmother Bessie who came to America fleeing pogroms in Europe.  Alice Bridgforth, who appeared in "The Off Hours" directed by Megan Griffiths, plays Bessie's daughter Mary, a first generation American, and Sara Schweid,, who has appeared with many local theater companies, plays Mary's daughter Deborah.
Through portraying the humorous, loving and demanding interactions between mothers daughters and granddaughter, the play looked at what it means to be raised Jewish, and what it means to love those closest to, and most like, ourselves/
This  SJTC  also invited local groups, including Hadassah, NCJW and ORT, to organize theater outings to see the play. Performances were followed by audience discussions with the director and cast.
"Mirele Efros"  December 2013
Called "The Jewish Queen Lear" it was the most popular play in the history of Yiddish theater.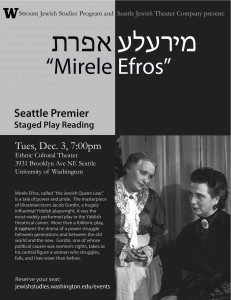 To launch its fourth year, the Seattle Jewish Theater Company presented a staged reading of the classic Yiddish play "Mirele Efros" in a new English translation by Nahma Sandrow, for the University of Washington's Center for Jewish Studies.   The December 3 production, which was the Seattle premiere of the play, was well-received by the audience in the nicely full house at the UW's 171-seat Ethnic Cultural Theater.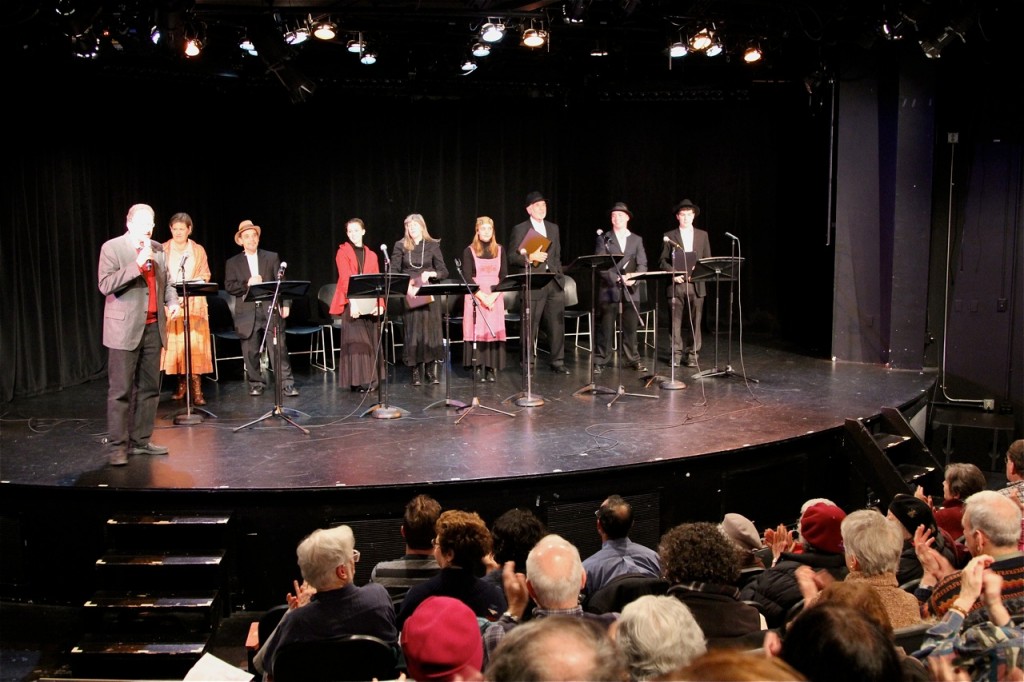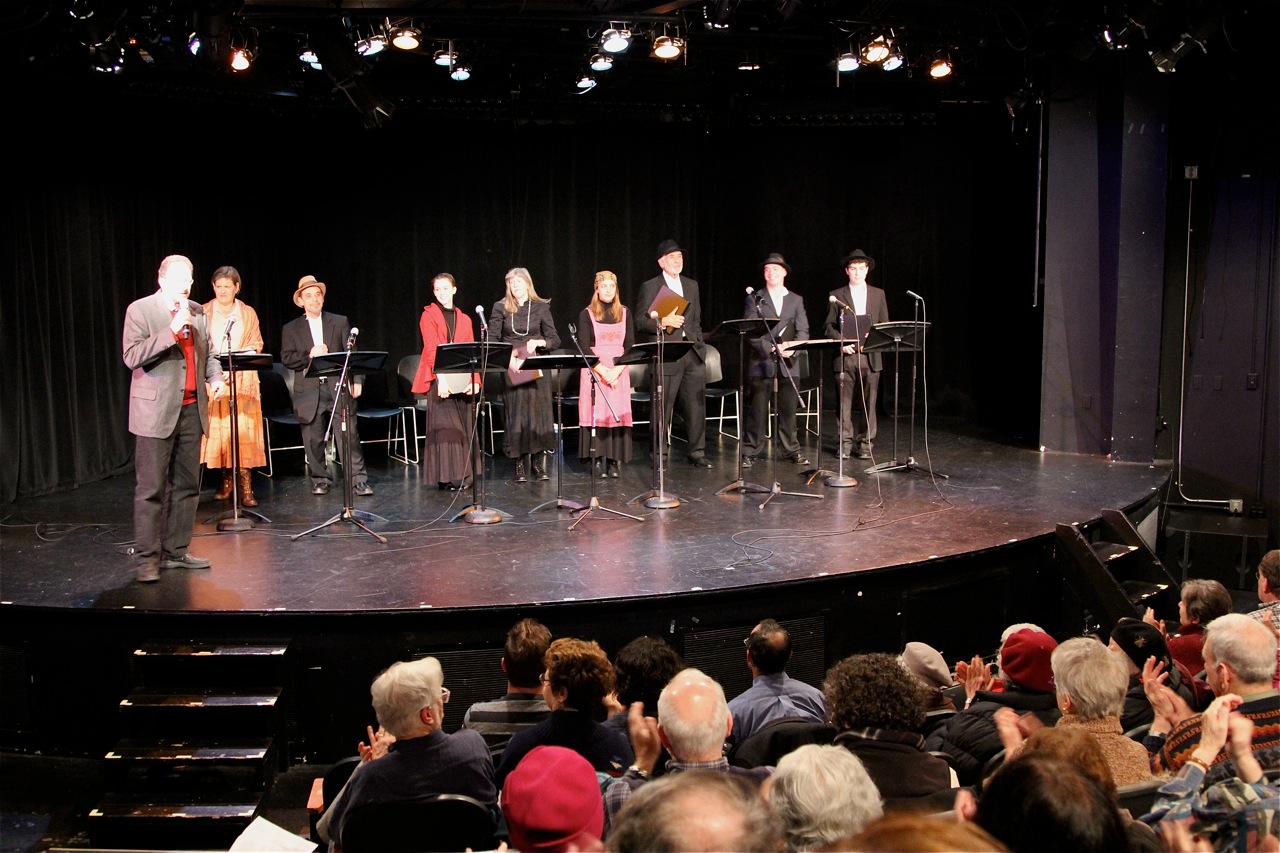 Left to right, SJTC Artistic Director, Art Feinglass, Dawn Cornell, Marc Mayo, Jaclyn Lavine, Alice Bridgforth in the title role, Susan King who also served as Assistant Director, Adrien Gamache, Michael Faigenblum and Daniel Kranseler.
The program was introduced by the Center's assistant director Lauren J. Spokane. UW Professor Barbara Henry, an authority on playwright Jacob Gordin, and  author of Rewriting Russia: Jacob's Gordin's Yiddish Drama, gave a pre-show talk on the play and the playwright before the presentation. Period Klezmer music was performed by local artist Talia Toni Marcus.
Mirele Efros was the masterpiece of Ukrainian-born Jacob Gordin, a hugely influential Yiddish playwright who was called "the Jewish Ibsen" of the New York Yiddish stage. His plays were filled with powerful women's roles. Gordin, one of whose political causes was women's rights, takes as his central figure a woman who struggles, falls, and rises wiser than before.
The title role was performed by every leading Yiddish actress during the heyday of Yiddish theater in New York City. The play was created by the author as a vehicle for the star actress Keni Liptzin; when Polish actress Esther Rouchel Kaminska, another star with her own following, first attempted the title role in New York in 1912, the Yiddish public was riveted by the battle of titans, and newspapers published reviews and even cartoons commenting on the dueling prima donnas.
Years later, Ester's daughter Ida Kaminska had great success with the role. Yiddish actresses continue to measure themselves in the role, as recently as 1967 in Warsaw and New York, 1996 in Montreal, 2003 in Tel Aviv, 2009 in Bucharest and, most recently, in 2013 with the SJTC's presentation, in Seattle.
"Crossing Delancey" Spring 2013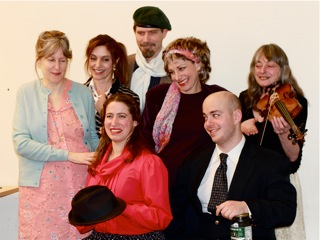 All eyes were on Isabelle "Izzy" Grossman, seated, as she tried to decide between a cool New York writer and Sam the pickle man.  Left to right, Alice Bridgforth, Susan King, Leah Wener-Fligner, Jim Quatier, Carol Sage Silverstein, Michael Faigenblum and Talia Toni Marcus, who performed klezmer music before and after the performance.
SJTC brought "Crossing  Delancey" to eight venues throughout the Seattle area, to a total audience of nearly 900 people. Venues included, the Seattle Jewish Film Festival, the Strom Jewish Community Center, the Seattle Public Library, Congregation Ezra Bessaroth, Kol HaNeshoma at West Seattle's Kenyon Hall Temple B'nai Torah and Temple Beth Am. The play was followed at most venues by a lively Q&A with the director and cast.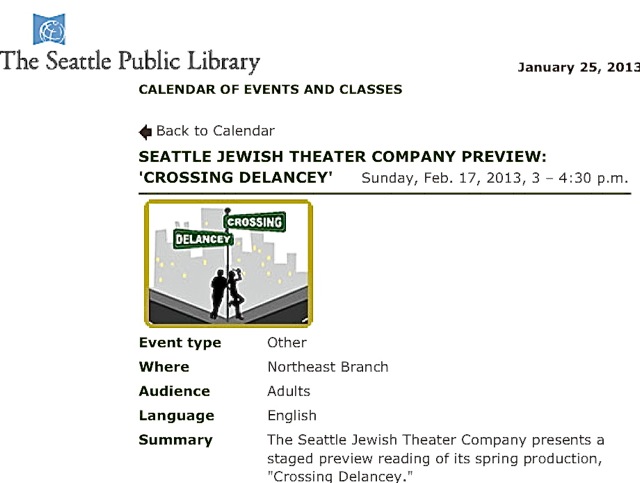 "Who's On First?" November 2012
The classic Abbot and Costello comedy routine"Who's On First?" hit a home run at the Washington State Jewish Historical Society's January 20 Tailgate Event celebrating Jews in Sports.   SJTC actors Marc Mayo and Carol Sage Silverstein performed on stage at Congregation Ezra Bessaroth for an audience of 150 sports and humor fans.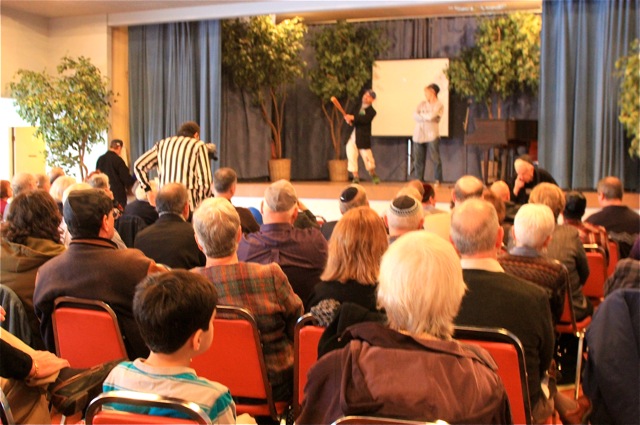 The audience laughed in all the right places.
 "The Last Night of Ballyhoo"  Spring 2012
Set in Atlanta in 1939, the TonyAward winning play takes place in the home of a Jewish family as Gone With the Wind comes to town for its world premiere. Hitler has invaded Poland but the biggest concern of the Freitag family is who is going to Ballyhoo, a lavish ball for southern Jewish socialites. In spring 2012 SJTC presented this charming romantic comedy  throughout the Seattle area, sometimes followed by audience discussion with the director and cast.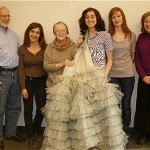 Ede Bookstein, with ballgown, joined the company as Costume Designer, bringing her years of experience with the Seattle Rep and the Michigan Regional Theater to SJTC productions.


"The World of Sholom Aleichem"  Fall 2011

The World of Sholom Aleichem, Arnold Perl's Broadway hit which The New York Times called, "wholly delightful" was presented by SJTC at venues throughout the Seattle area in the fall of 2011. The program featured a  collection of stories done in the style of the classic Yiddish theater. A staple of Jewish folklore, Tales of Chelm presented a lighthearted look at the residents of a shtetl (Jewish village in Eastern Europe) famous for its good-natured fools.
Bonsche Schweig, based on the classic short story by I.L. Petetz follows the path of a poor, modest man who goes to heaven. The High School portrays the efforts of a Jewish couple in Russia to get their son into a secular high school.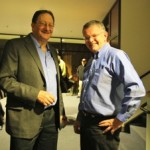 Brendan O'Connor, right, joined SJTC as Technical Director, bringing his expertise to the  staging of productions at every venue.
Joan Golston. left, has been a key part of every SJTC production, providing Production Support and Photography.
 "The Last Seder"  Spring 2011

When Lily and Marvin Price's four daughters return for the last Passover in their family home, they find that the magic of the Seder ritual may be the one thing that can help them heal the past and move on with their lives. The award-wining play by Jennifer Maisel deals in a warm, sensitive and funny way with issues of marriage, aging and Alzheimer's and the power of tradition to heal family relationships.
The play launched the Seattle Jewish Theater Company in Spring 2011 with performances by a cast composed of TBA members at Temple Beth Am in Seattle and Temple B'nai Torah in Bellevue. Audience discussion with the director and cast followed the performances