The Sophomore Season
When the Seattle Jewish Theater Company did its first of four performances of Tales from Chelm a month ago, it marked the official answer to a question Art Feinglass asked when he first arrived in town a little over a year ago: "Would [there] be enough interest to make the company worth trying?"
The Seattle Jewish Theater Company will perform Tales from Chelm at the Washington State Jewish Historical Society's gala event at Herzl-Ner Tamid Conservative Congregation, 3700 E Mercer Way, Mercer Island on Sun., Nov. 6 at 2 p.m. Tickets cost $36. On Sun., Nov. 20 at 7 p.m. they will be at Temple B'nai Torah, 15727 NE 4th St., Bellevue. Free.
With one spring production under its belt, another spring production, the Tony-winning Last Night in Ballyhoo in the wings, and Tales the Chelm, stories based on The World of Sholem Aleichem, slated next for the launch of the Washington State Jewish Historical Society's gala on Nov. 6, Feinglass is busy. And that's not to mention the New York-based murder mystery and corporate training businesses he owns and runs from SeattleIt is those two businesses that Feinglass has run over the past 20 years that gives him the eye for talent and how that talent should be utilized."I'm finding the actors very good. I've got a combination of professional actors — you can see the expertise — and amateur actors, community theater actors," he says. "One woman in my company has 40 shows to her credit, one guy has 70."
For the time being, the money problems that have long beset Seattle's theater community — and resulted in the shuttering of the Intiman Theatre earlier this year — are not on this company's radar screen. The budget is very small — most of it comes out of Feinglass's pocket: "We're talking hundreds of dollars," he says. "Everybody's working for nothing." He said, however, that he does try to pay the musicians. The troupe uses existing spaces at places like the auditorium at the University Prep high school next to Temple Beth Am or, next month, Temple B'nai Torah. Partnerships like these also help to bring in new audiences, whether they're Jewish or not.
"We're on the same side here," Feinglass says. "I think that partnering works well, it's also a good way to get the different components of the community working together." He has found one surprise with the creation of the company: "How receptive and welcoming audiences have been," he said. "People are really ready for a Seattle Jewish theater company. I was hoping they would be."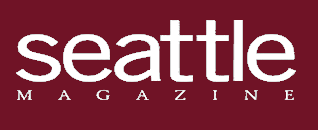 BD: Why did you start the Seattle Jewish Theater Company?
AF: I felt the need to create something personally meaningful and significant. Being Jewish is important to me. While I'm not religious, I do very much appreciate the rich Jewish cultural heritage, especially in theater. I would like to introduce the great plays—provocative dramas, warm comedies, delightful musicals—that have grown out of the Jewish heritage and continue to reflect and interpret that heritage today.
BD: What is a Jewish play?
AF: To my mind, a Jewish play is a play that touches on some aspect of the Jewish experience, and that definition can be fairly flexible. We'll be performing, in English translation, classics of the great Yiddish theater that delighted audiences in the 19th and early 20th centuries; holiday-based pageants from the Sephardic Jewish tradition; more contemporary award-winning plays by writers like Arthur Miller, Neil Simon, David Mamet, Herb Gardner, Donald Margulies and Wendy Wasserstein; and cutting-edge works by emerging new playwrights.
BD: Do you have to be Jewish to participate?
AF: I remember years ago there was a famous poster in the New York subway of a little Asian boy happily enjoying a sandwich made with Levy's rye bread. The tagline read, "You don't have to be Jewish to love Levy's." That's how I feel about the Seattle Jewish Theater Company. You don't have to be Jewish to be in the cast, the crew or the audience.
SEE IT: Tales of Chelm, from the 1950s off-Broadway trio The World of Sholom Aleichem opens on November 6, as a fundraiser for the Washington State Jewish Historical Society at Herzl-Ner Tamid on Mercer Island, $18–$36; and on November 20 at Temple B'nai Torah in Bellevue, free.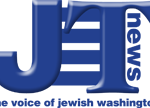 Jewish Transcript interview by Emily Keeler Alhadeff, Assistant Editor, JTNews April 8, 2011
Passover Comes with a Price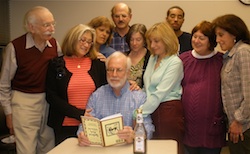 When the Price girls show up at their parents' house for Passover, their mother Lilly opens the door and laments, "You're early! You're all early."
Hardly an expected greeting from a mother whose four daughters have taken up the pilgrimage home for one of the most important and celebrated Jewish holidays. But Lilly's reaction sets the stage, so to speak, for what's to come: A heartwarming, sad, hilarious and realistic look into a family that's coming to grips with memory and reality.
The Last Seder brings together Lilly and her husband Marvin, who is suffering advanced stages of Alzheimer's, and their four unique daughters for the last Passover before Lilly sells the house. Amidst packing boxes the family comes to terms with the end of an era.
"This is a comedy-hyphen-drama, and that's really a fair way to describe it," said Art Feinglass, the director of Jennifer Maisel's The Last Seder.
The play's cast of experienced actors are all members of Temple Beth Am. Feinglass is in the process of forming the Seattle Jewish Theater Company, which will perform three to four Jewish-related plays per season. He and the players are pleased with the response the play has garnered so far: half the tickets were sold within the first five days of sales. With this kind of response, Feinglass says he is optimistic about his budding theater company.
In their rehearsal classroom at Temple Beth Am, the cast gathered around to share their experiences about the production as it enters its final weeks.
"This is like the Tevye stories that became Fiddler on the Roof," Feinglass said. "You have different daughters, each one confronting a different aspect of late 19th-century challenges." In this version, "one daughter's a lesbian, one daughter's a workaholic, one daughter's trying to find her art, and one runs away all the time."
"It's not really a dysfunctional family," said Floyd Reichman, who plays Lilly's neighbor and romantic interest, Harold. "It's a family that really can't find themselves and therefore lacks this cohesive force that a lot of families manage to sustain. They've all gone off in their own opposite directions and forgotten about what it is to be a family."
Dawn Cornell, playing second-oldest daughter Claire Price, described the essence of the family as separate nuclei. "You're the gay one, I'm the workaholic, you're wandering, you're searching, and I think this is the first time in a long time that we're coming together and understanding each other."
"So I think it's fair to say dysfunction doesn't have to be a bad thing," said Jo Merrick, who plays oldest daughter Julia.
Listening to their emotional and thoughtful reflections, it was hard sometimes to tell when they were speaking as characters and when they were speaking about themselves.
"I dreaded Passover, on so many levels," said Cornell. "You love the traditions, you love being part of it, but it's like, if Aunt Mabel asks me one more time, 'When are you gonna have a baby, Claire, when are you gonna get married Michelle…?'"
The cast members agree wholeheartedly that they internalize their roles and find the performance cathartic.
"I think there are a lot of people in the cast who are experiencing aspects of their own lives," Feinglass said. "It's blended. The characters have been infused by the actors and the other way around."
The group, until now boisterous, grew quiet and pensive. Several cast members shared that they see their own personal trials and tragedies reflected in their characters.
"My mother was schizophrenic," Merrick said. "So for me, I'm watching my mother's situation."
"We were probably all in tears the first time we read it," said Feinglass. On the first read, "I was crying, and a bunch of other people were crying, and then when we did it we cried again, then we did it again and we cried again. We should be bored by this already."
Playwright Maisel has managed to weave scenes of poignancy and humor together in a way that Feinglass and the cast members predict all types of Jews as well as non-Jews will be able to relate: The dynamics of family holidays across the spectrum. Feinglass chose the play in part for this reason.
"It's warm, it's funny, it's dramatic, but it's also at the end very touching," he said.
"I think the audience will see a lot of themselves," said Carol Silverstein, who plays one of the Price daughters. "I think they're going to be sitting there and going 'oh my God, that's my family.'"