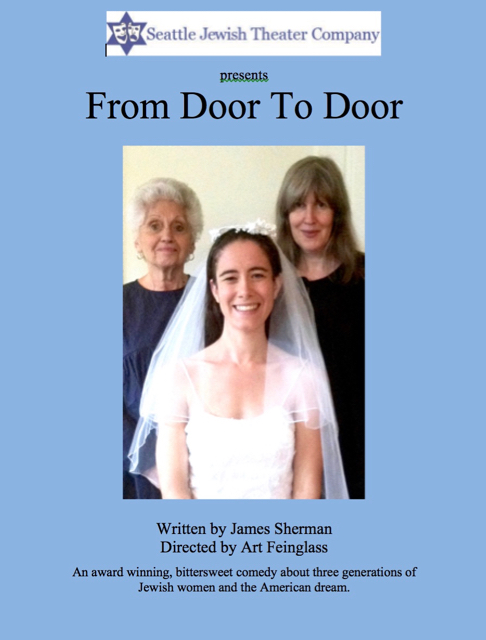 "From Door To Door" at Jewish Genealogical Conference August 9,
Previews July 24 & 30
We're proud to announce that we've been invited to present an encore performance of From Door To Door for an international audience at the 36th annual conference of the International Association of Jewish Genealogical Societies at the Sheraton Seattle on August 9. We will present preview performances, open to the public, at the Seattle Public Library's Northeast branch on Sunday afternoon, 2:00 – 4:00 July 24 (free admission, reservations at SeattleJewishTheaterCompany@gmail.com) and at Kenyon Hall in West Seattle on Saturday night, July 30 (information and reservations at http://kenyonhall.org.)
Written by award-winning playwright James Sherman, and directed by SJTC artistic director Art Feinglass, From Door to Door is a bittersweet comedy about three generations of Jewish women and the American dream. The play will be performed by three talented local actors, Leah Vetter, a member of Temple Beth Am, Natalie Schmidt and Alice Bridgforth, who appeared in the earlier production. All performances will be followed by an audience discussion with the director and cast.
The play takes its title from the Hebrew song "L'dor V'dor" which means "From Generation to Generation." It examines what it means to grow up Jewish and to love those closest to, and most like, ourselves. SJTC brought From Door To Door to Jewish venues throughout the Seattle area two years ago to enthusiastic audience response. Conference planners thought the play especially fitting for an organization that deals with Jewish genealogy.
At the IAJGS conference we will also present Jewish History Live, with SJTC actors portraying actual Jewish immigrants who came to Seattle from areas as disparate as Turkey, Rhodes and Russia in the early 1900's and Germany in the 1930's.
If you missed it last time, or would like to see it again, I hope you'll come to see our performance of From Door to Door at the Northeast Branch of the Seattle Public Library on July 20 or at Kenyon Hall on July 30.
Coming in Spring 2017
The Dybbuk, regarded as the greatest classic of Yiddish drama, depicts a young bride in a Polish shtetl who is possessed by the spirit – a dybbuk– of her dead beloved. Written in 1914 by S. Ansky and directed by Seattle Jewish Theater Company artistic director, Art Feinglass, The Dybbuk tells a story, rooted in Jewish folklore, of love caught between two worlds and a Jewish community dealing with mysterious, other-worldly forces.
The bride, Leah, though betrothed by her ambitious father to a wealthy stranger, yearns for troubled young scholar Chonen. Chonen's frustration at being thwarted in love drives him to the secrets of the Kabbalah which he believes can unlock the hidden powers of the universe and enable him to marry Leah. But, as the plot unfolds, there is a heavy price to pay for delving into secret things.
Ansky wrote the play after a fact-finding tour through the Jewish communities of the Pale of Settlement and his fascination with rabbinical wisdom, spirituality and Jewish folklore are clearly evident in the play.
In the 100 years since it's creation, The Dybbuk has become a canonical work of Hebrew and Yiddish theatre and has been translated into dozens of languages and intrigued audiences around the world.
Seattle Premiere Spring 2016
MORNING STAR
Written by Sylvia Regan     Directed by Art Feinglass

Morning Star follows a family of Jewish immigrants in New York City, from 1910 to 1931.  Their struggles epitomize the immigrant experience as they encounter the tragedy of the Triangle Shirtwaist Factory fire, World War I, the Great Depression, and the labor movement. A critical and commercial success when it premiered on Broadway in1940, the play has become a classic, revived with successful runs in New York, Chicago, Boston, Los Angeles, Tel Aviv and Buenos Aires.
"Wry, funny and often times heart-breaking, Morning Star is a beautiful piece of theater and a lesson in respecting the people whose lives and dreams comprise American history." Chicago Sun-Times
Performance Schedule
Saturday, March 12, 8:00 p.m. University Prep Theater, 8000 25th Avenue NE, Seattle  (Wedgwood). Sponsored by Temple Beth Am and Congregation Beth Shalom.  Tickets $15/$10 at www.brownpapertickets.com/event/2489241
Saturday, March 19, 7:30 p.m. Kenyon Hall, 7904 35th Avenue Southwest, Seattle (West Seattle). Tickets $14 – $5 at www.kenyonhall.org
Sunday, March 27, 2:00 p.m. Seattle Public Library, Northeast Branch, 6801 35th Avenue, Seattle. (admission free)
Sunday, April 3, 2:00 p.m. Temple B'nai Torah, 15727 NE 4th St. Bellevue.               (See TBT flyer below)
Sunday, April 10, 2:00 p.m. Congregation Ezra Bessaroth, 5217 S. Brandon Street, Seattle, (Seward Park). Tickets $15/$10 at office@ezrabessaroth.net
Thursday, April 14, 7:00 p.m. SJCC, 3801 East Mercer Way, Mercer Island.    Community Partners: Jewish Genealogical Society of Washington State  & The Summit. Tickets $15/$10 at sjcc.org
Sunday, April 17, 2:00 p.m. Shalom Club at Trilogy, Redmond.                  (Performance for residents).


The Cast
Becky Feldeman                    Lori Stein
Fanny Felderman                   Deborah Jacoby Hathaway
Irving Tishman                       Andy Kaplan
Sadie Felderman                   Emma Wilkinson
Aaron Greenspan                  Stephen Montsaroff
Harry Engel                           Dani Michael Miller
Myron Engel                          Adrien "Mick" Gamache
Esther Felderman                   Daisy Schreiber
Hymie Felderman at 13          Sophie Klemond
Hymie Felderman at 19          John Paul DeGennaro
Hymie Tashman at 13            James Brammer
Benjamin Brownstein             Marc Mayo
Kathleen Connelly                  Mary Brown
 The Crew
Director                                 Art Feinglass
Stage Manager                      Brendan O'Connor
House Manager                     Joan Golston
Costume Designer                 Ede Bookstein
From Door to Door for the IAJGS  International Conference
at the Seattle Sheraton August 9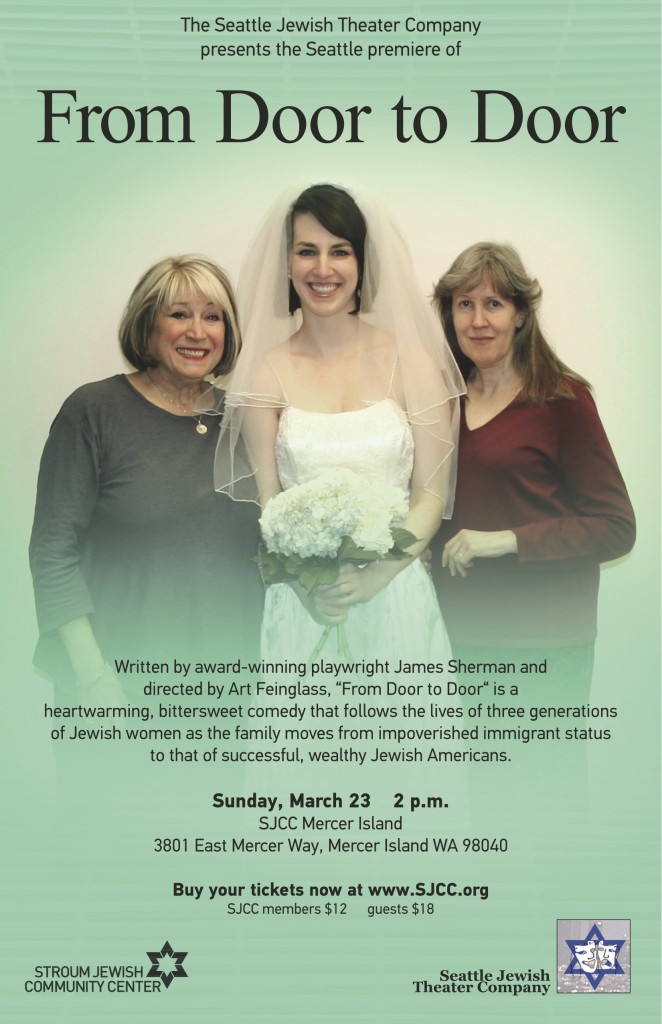 On August 9, 2016, SJTC will reprise its performance of James Sherman's From Door to Door for the annual conference of the International Association of Jewish Genealogical Societies attended by some 800 people at the Sheraton Seattle Hotel.

In October 2016 SJTC will return to the stage of the University of Washington's Ethnic Cultural Theater for a performance of another classic Jewish play.  The staged reading of Mirele Efros written by acclaimed Yiddish playwright Jacob Gordiin, was very well received and sparked lively audience discussion following the performance.  SJTC looks forward to continuing the tradition of bringing great Jewish theater to the University of Washington.
The Seattle Jewish Theater Company
The mission of the Seattle Jewish Theater Company, now in its sixth year, is to bring classic and contemporary Jewish theater to Seattle.
The SJTC typically presents two shows a year, one in the fall and one in the spring performing for over 1,400 people annually.  Previous spring plays include From Door to Door, Crossing Delancey, The Last Night of Ballyhoo, and The Last Seder. Fall productions have included The World of Sholom Aleichem and the classic Yiddish play Mirele Efros for the University of Washington. In September 2014 SJTC entertained 350 people at the Washington State Jewish Historical Society's gala at the Museum of History and Industry, in a program entitled Shalom, Open for Business, in which SJTC actors portrayed Jewish merchants in Seattle in the early years of the twentieth century.