"Mirele Efros"
called "the Jewish Queen Lear" was the most popular play in the history of Yiddish theater
The Seattle Jewish Theater Company, now in our fourth year, will present a staged reading of the classic Yiddish play "Mirele Efros" in a modern English translation, at the University of Washington's Ethnic Cultural Theater on Tuesday evening, December 3 7:00 – 9:00 p.m.. In addition to SJTC veterans, the cast will include several students from the UW Jewish Studies Program which is co-sponsoring the production under the guidance of the program's assistant director Lauren J. Spokane .  Professor Barbara Henry, an authority on playwright Jacob Gordin, and  author of Rewriting Russia: Jacob's Gordin's Yiddish Drama, will introduce the program. Period Klezmer music will be performed by local artist Talia Toni Marcus.
"Mirele Efros," called "the Jewish Queen Lear," is the most popular and widely performed play in the history of Yiddish theater. It is the masterpiece of Ukrainian-born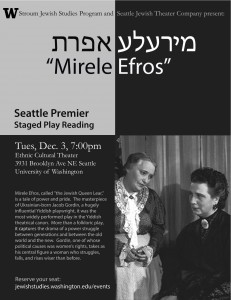 Jacob Gordin, a hugely influential Yiddish playwright who was called "the Jewish Ibsen" of the New York Yiddish stage. His plays were filled with powerful women's roles. Gordin, one of whose political causes was women's rights, takes as his central figure a woman who struggles, falls, and rises wiser than before.
This classic of Yiddish theater is a tale of power and pride and recreates Jewish life in nineteenth century Grodno, Poland. The title character Mirele is a wealthy and pious widow whose devotion to her children extends to hand-picking a wife for her eldest son.  She gravely mistakes the young woman's character and a conflict soon erupts between the Jewish matriarch and her daughter-in-law who schemes to gain control of the Efros family wealth. More than a folkloric play, it captures the drama of a power struggle between generations and between the old world and the new.
 The title role was performed by every leading Yiddish actress during the heyday of Yiddish theater in New York City. The play was created by the author as a vehicle for actress  Keni Liptzin in the title role. When Polish actress Esther Rouchel Kaminska, another star with her own following, first attempted the title role in New York in 1912, the Yiddish public was riveted by the battle of titans, and newspapers published reviews and even cartoons commenting on the dueling prima donnas.  Years later, Ester's daughter Ida Kaminska had great success with the role of Mirele Efros in Europe and America. In the 1938 Yiddish film veteran actress Berta Gersten played Mirele with a less imperious style than some of her predecessors.
Yiddish actresses continue to measure themselves in the role, as recently as 1967 (Warsaw and New York), 1996 (Montreal), 2003 (Tel Aviv) and 2009 (Bucharest).  "Mirele Efros" has been performed in Russian, Ukrainian, Hungarian, German, Spanish, Italian, and Hebrew. This new English translation by Yiddish scholar Nahma Sandrow,  prize-winning author of "Vagabond Stars: A World History of Yiddish Theater," will be performed for the first time in Seattle.
For information and reservations for the December 3 staged reading of "Mirele Efros" contact, SeattleJewishTheaterCompany@gmail.com.
Coming in the Spring:  "From Door to Door"
In March and April 2014, SJTC will present "From Door to Door" by award-winning playwright James Sherman. "From Door to Door" is a warm, bittersweet comedy tribute to three generations of Jewish women. The play tells a universal tale of family secrets, lies and surprises.
Through portraying the humorous, loving and demanding interactions between mothers daughters and granddaughter, the play looks at what it means to be raised Jewish, and what it means to love those closest to, and most like, ourselves.
A trio of actresses plays the three women over the course of sixty-five years. As life progresses from childhood to matrimony to motherhood, we see how each successive generation of women lives up to the expectations of the past and makes choices about the future. At the end of the play, the three women stand as links in a chain made of faith, love, and understanding
"Hilarious and deeply moving" – New York Daily News
"A bittersweet comedy about the blessings and compromises that three generations of women encounter in their pursuit of love, faith and marriage." – The Atlanta Journal-Constitution
"Because Sherman has all the details right, they hit home hard, and they touch us with their gentle, tried and true sentiment." – Chicago Tribune
"Sherman's women are Jews, but their trial and trails are universal." – Pittsburgh Post-Gazette
The performance schedule is being finalized but currently includes performances at the Stroum Jewish Community Center, the Seattle Jewish Film Festival, the Seattle Public Library, Temple Beth Am, Congregation Ezra Bessaroth and Temple B'nai Torah.  For a more complete schedule stay tuned to this Web page.