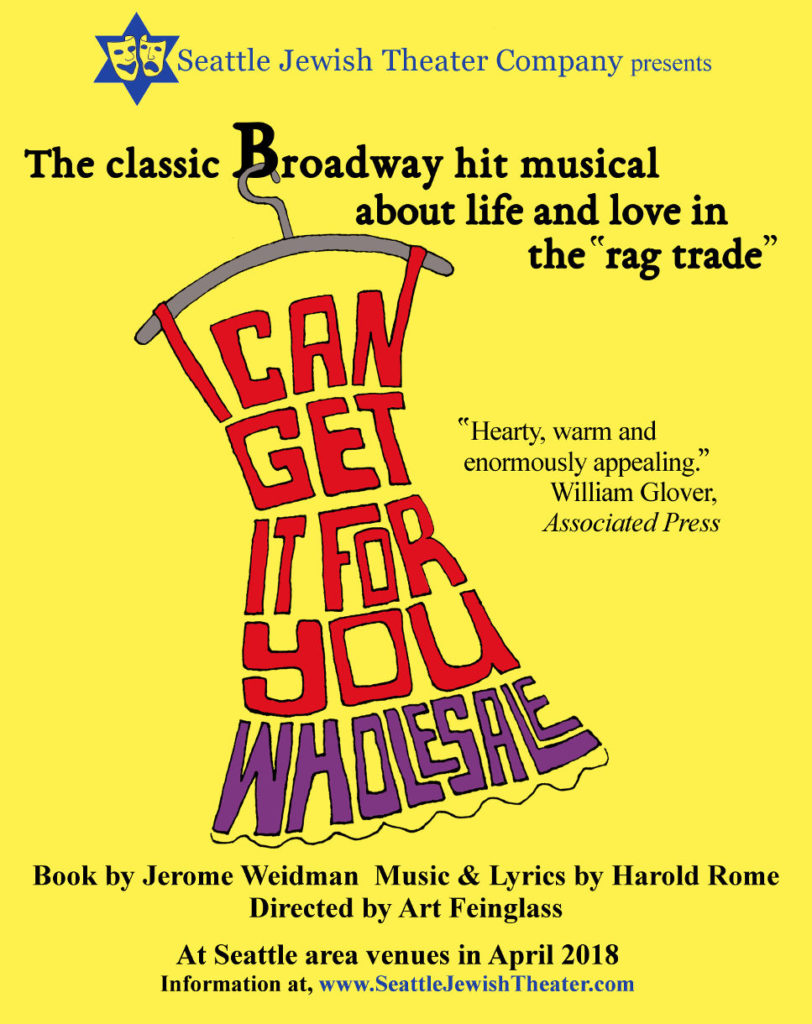 In spring 2018 the Seattle Jewish Theater Company, now in our eighth year, will present   "I Can Get It For You Wholesale" at venues throughout the Seattle area. This classic Jewish musical, set in New York's garment district in 1937, was a hit on Broadway in 1962.  It ran 300 performances and launched the careers of Elliott Gould and Barbra Streisand.
Performance Schedule, Spring 2018
Sunday, April 8, 2:00 p.m., Shalom Club at Trilogy, Redmond 
Sunday, April 15, 3:00 p.m., Temple B'nai Torah, 15727 NE 4th St., Bellevue
Sunday, April 22, 2:00 p.m., University Prep Theater, 8000 25th Avenue NE, Seattle (Wedgwood). Sponsored by Temple Beth Am and Congregation Beth Shalom
Saturday, April 28, 7:30 p.m., Kenyon Hall, 7904 35th Avenue Southwest, West Seattle
Sunday, April 29, 2:00 p.m., Microsoft Auditorium, Central Branch, Seattle Public Library 1000 Fourth Ave., Seattle
Sunday, May 6, 2:00 p.m. SJCC, 3801 East Mercer Way, Mercer Island
 A favorite with audiences, the show also garnered major critical acclaim:
"A bargain retail … Hearty, warm and enormously appealing." W. Glover, Associated Press
"The best thing of 1962." Leon Pearson, NBC
"Should be seen by playgoers who respect quality theater." R. Cooke, Wall Street Journal
"More times than you can count, you are touched to the point of tears, dissolved in tenderness, or excited to a point of breathlessness. Actually you do not watch I Can Get It For You Wholesale. You are in it." Norman Nadel, New York World Telegram & Sun
Auditions will be held in November, rehearsals begin in January, performances throughout the Seattle area in March and April. Stay tuned for details. For more information contact, SeattleJewishTheaterCompany@gmail.com.
 The Seattle Jewish Theater Company
The mission of the Seattle Jewish Theater Company, now in its eighth year, is to bring classic and contemporary Jewish theater to the Seattle area. Previous spring productions have included Morning Star, Beau Jest, From Door to Door, Crossing Delancey, The Last Night of Ballyhoo, The Last Seder and The Dybbuk. Summer and Fall productions have included The World of Sholom Aleichem, The Power of Two, Who's On First? and the classic Yiddish play Mirele Efros for the University of Washington.
In September 2014 SJTC entertained 350 people at the Washington State Jewish Historical Society's gala at the Museum of History and Industry, in a program entitled Shalom, Open for Business, in which SJTC actors portrayed Jewish merchants in Seattle in the early years of the twentieth century.
In August 2016 SJTC presented From Door to Door and Jewish History Live for some 800 attendees at the 36th annual convention of the International  Association of Jewish Genealogical Societies at the Seattle Sheraton.
For more information contact,
Art Feinglass, Artistic Director,
Seattle Jewish Theater Company
SeattleJewishTheaterCompany@gmail.com