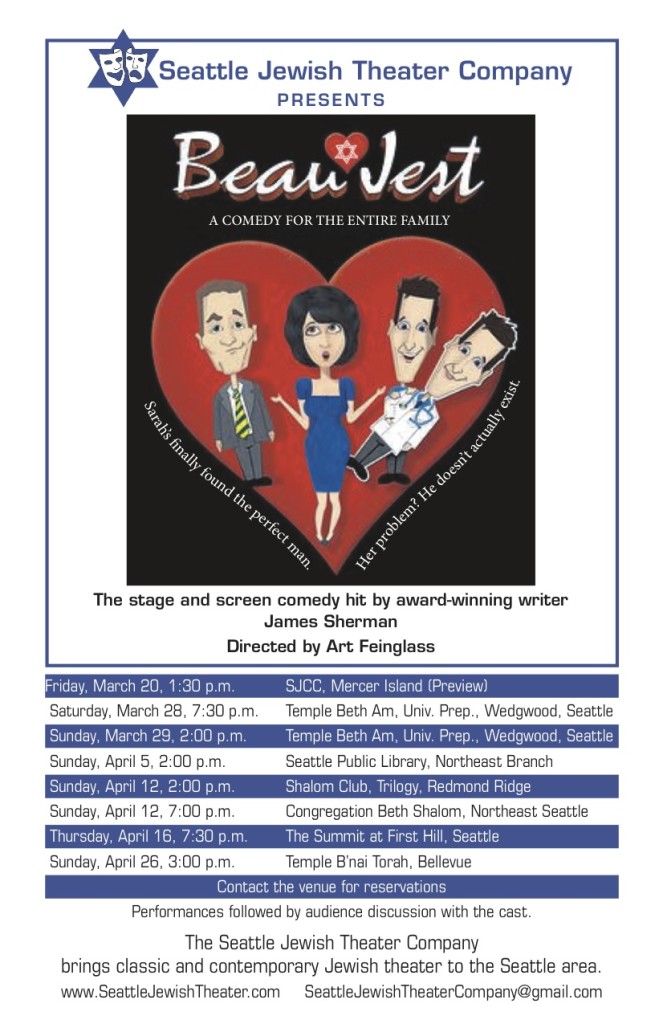 In March the Seattle Jewish Theater Company brought a preview of our spring show, the romantic comedy Beau Jest to an audience of 250 people at the SJCC on Mercer Island and to 170 people at the University Prep Theater and the Seattle Public Library.  Last  Sunday SJTC did a double header. First an afternoon performance for 103 people at the Shalom Club at Trilogy in Redmond, east of Seattle followed by a quick drive across Lake Washington to do an evening performance attended by 70 people at Congregation Beth Shalom in Northeast Seattle. Both shows got plenty of well-deserved rave reviews from the audience for the very talented cast.
This Thursday night we're at The Summit on Seattle's First Hill and then on April 26 we bring the show to the last of our seven venues, Temple B'nai Torah in Bellevue.  It's been great working with the cast on this show. Time to start working on the next play.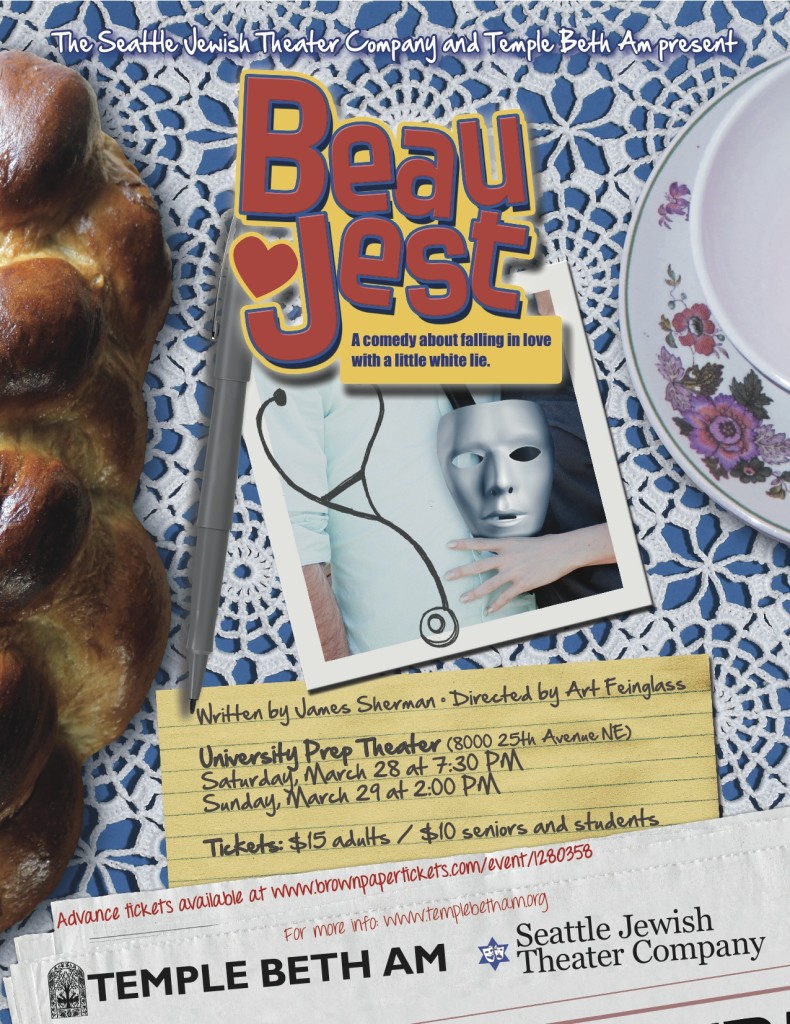 This spring the Seattle Jewish Theater Company, now in its fifth year, is bringing another great Jewish play to audiences at seven locations around the Seattle area. "Beau Jest," is a heart-warming, family friendly comedy, written by award winning playwright James Sherman and directed by SJTC artistic director Art Feinglass.
"Beau Jest" was a long running hit on stage in New York and Chicago and a successful feature film.The plot revolves around Sarah Goldman, a single, Jewish woman who is secretly dating Chris who does not meet the approval of her traditionally minded parents. To please them, Sarah invents a fictional boyfriend, the impossibly perfect Dr. David Steinberg.  When her parents want to meet him, Sarah hires an out-of-work actor to play her make-believe beau. Sarah's found the perfect man. Her  only problem — he doesn't exist.
A Jewish Community-Wide Production
While not everyone in the cast and crew, or in the audiences, of SJTC productions are Jewish, the production this spring is very much a community wide undertaking.  Members of four Seattle area synagogues are represented in the cast and crew of "Beau Jest." They include cast member Al Hillel and production manager Brendan O'Connor of Temple Beth Am, house manager Joan Golston of Temple B'nai Torah, costume designer Ede Bookstein of Temple De Hirsch Sinai and assistant director Rhona Feldman of Congregation Beth Shalom.  Adding to the Jewish community involvement, leading lady Sara Schweid, who appeared in last year's SJTC production of another James Sherman comedy, "From Door to Door," is Social Media and Communications Coordinator at the Stroum Jewish Community Center on Mercer Island.
The SJTC typically brings its spring production each year to seven or eight locations and a total audience of some 900 people.  Previous spring plays include "From Door to Door," "Crossing Delancey," "The Last Night of Ballyhoo," and "The Last Seder." The company also presents programs in the fall. These have included "The World of Sholom Aleichem" at several Seattle locations and the classic Yiddish play "Mirele Efros" for the University of Washington. In September 2014 SJTC  entertained 350 people at the Washington State Jewish Historical Society's gala at the Museum of History and Industry, where actors portrayed Jewish merchants in Seattle in the early years of the twentieth century.
The mission of the Seattle Jewish Theater Company is to bring both classic and contemporary Jewish theater to the Seattle area. Productions of classic Jewish plays include "The World of Sholom Aleichem" and "Mirele Efros" by Jacob Gordin which was performed at the University of Washington's Ethnic Cultural Theater.
"Hilarious and quite moving. Sherman wonderfully blends farce with genuine insight." Chicago Sun-Times
"Very Funny. The well-crafted play has a lot to say about nuclear families of any ethnic persuasion."  Wall Street Journal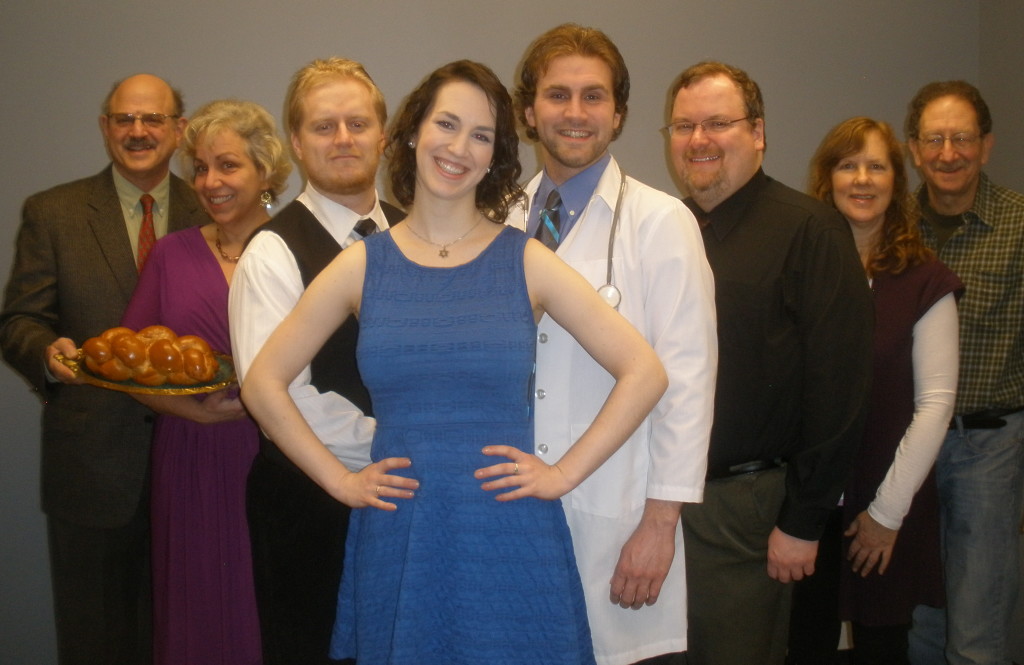 It's all about Sarah in the Seattle Jewish Theater Company's spring production of the romantic comedy hit, "Beau Jest." Left to right, Al Hillel, member of Temple Beth Am, Mary Brown, Isaiah J. Smith, Sara Schweid, MacKenzie Mott, Ian McIntire, Rhona Feldman, assistant director, member of Congregation Beth Shalom, and Art Feinglass, director.
CAST
SARAH GOLDMAN                        Sara Schweid
BOB                                               MacKenzie Mott
CHRIS                                            Isaiah J. Smith
JOEL                                              Ian McIntire
MIRIAM                                          Mary E. Brown
ABE                                               Al Hillel
PRODUCTION TEAM
DIRECTOR                                     Art Feinglass
ASST. DIRECTOR                          Rhona Feldman
COSTUME DESIGNER                  Ede Bookstein
LIGHTING DESIGNER                   Steve Cooper
GRAPHIC DESIGN                        Susan Beardsley
HOUSE MANAGER                       Joan Golston
PRODUCTION MANAGER.            Brendan O'Connor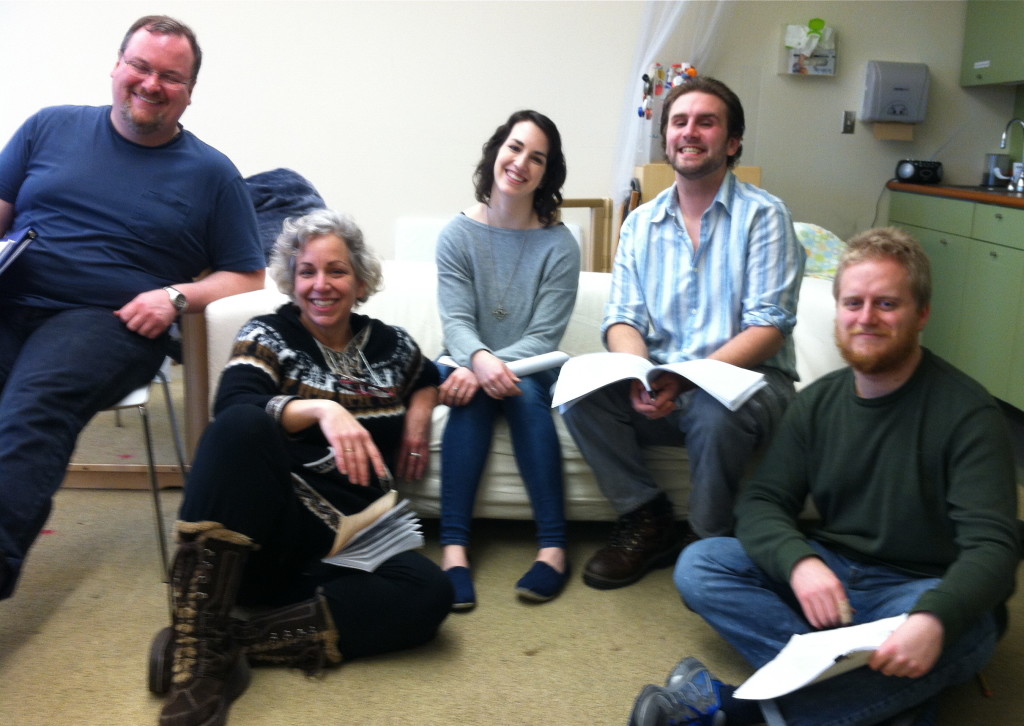 Rehearsing the play.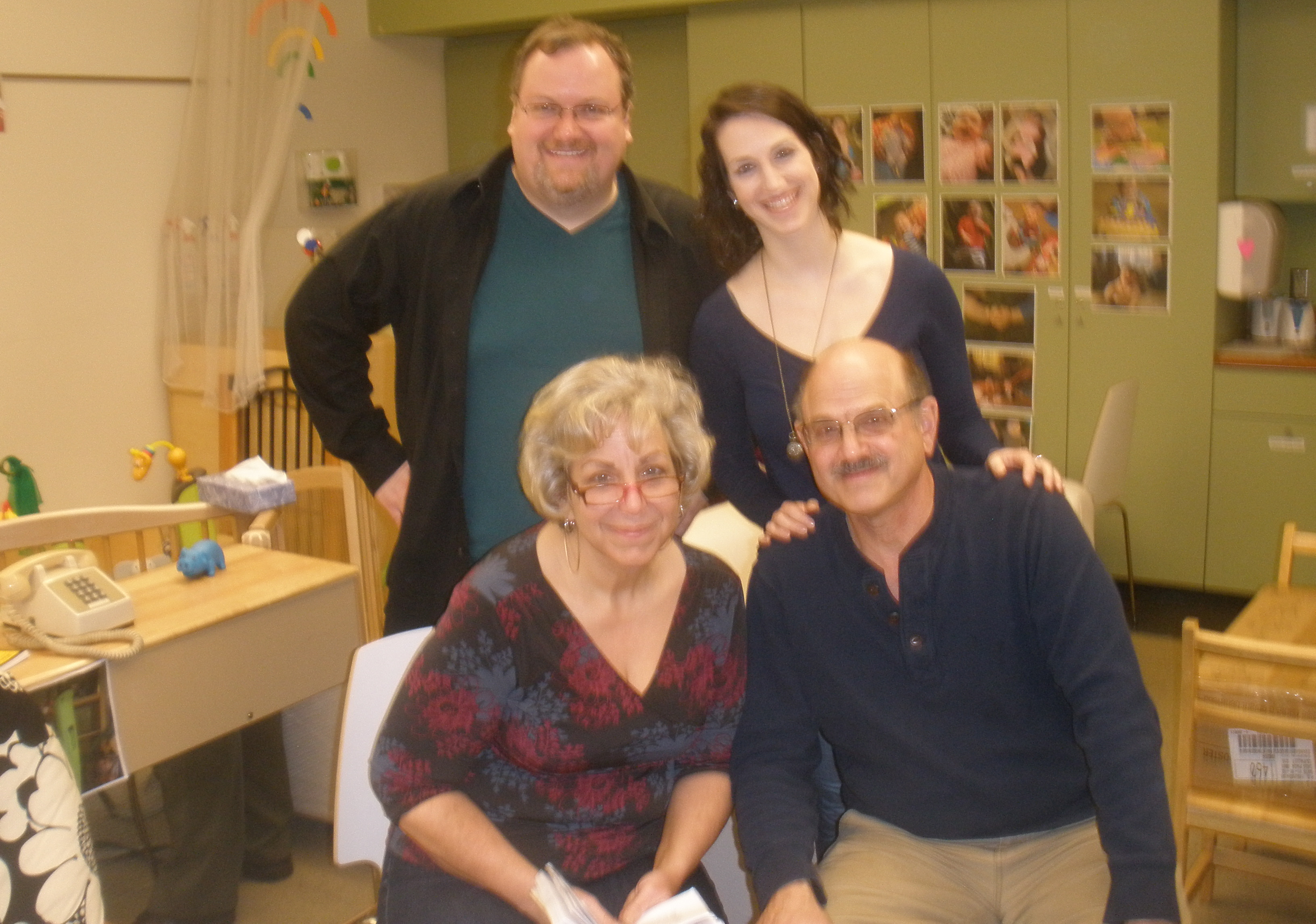 Rehearsing "the Goldmans" posing for a family photo.
For information contact:
Art Feinglass, Artistic Director, Seattle Jewish Theater Company
SeattleJewishTheaterCompany@gmail.com