Coming in Spring 2017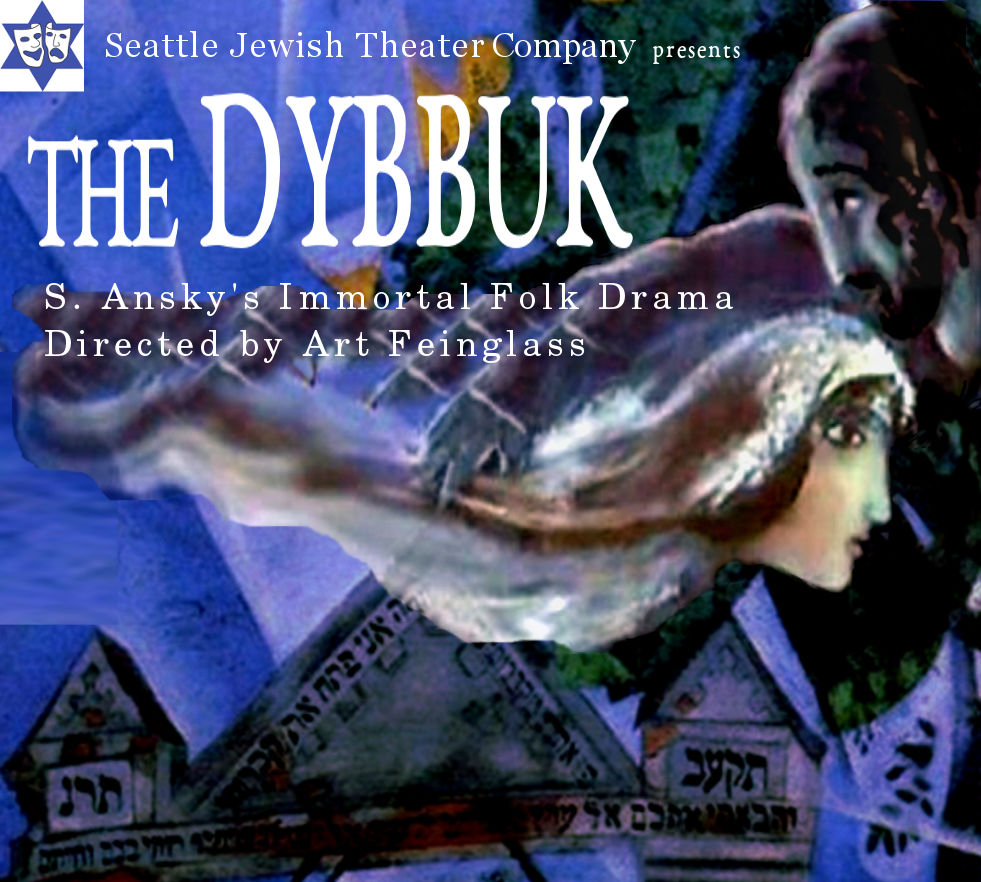 The Dybbuk, regarded as the greatest classic of Yiddish drama, depicts a young bride in a Polish shtetl who is possessed by the spirit – a dybbuk– of her dead beloved. Written in 1914 by S. Ansky and directed by Seattle Jewish Theater Company artistic director, Art Feinglass, The Dybbuk tells a story, rooted in Jewish folklore, of love caught between two worlds and a Jewish community dealing with mysterious, other-worldly forces.
Ansky wrote the play after a fact-finding tour through the Jewish communities of the Pale of Settlement and his fascination with rabbinical wisdom, spirituality and Jewish folklore are clearly evident in the play.
The bride, Leah, though betrothed by her ambitious father to a wealthy stranger, yearns for troubled young scholar Chonen. Chonen's frustration at being thwarted in love drives him to the secrets of the Kabbalah which he believes can unlock the hidden powers of the universe and enable him to marry Leah. But, as the plot unfolds, there is a heavy price to pay for delving into secret things.
In the 100 years since it's creation, The Dybbuk has become a canonical work of Hebrew and Yiddish theatre and has been translated into dozens of languages and intrigued audiences around the world.  The play will be performed in Yiddish at locations throughout the Seattle area.
Performance Schedule, Spring 2017
Friday, March 31, 1:30 p.m., Preview at Seattle Jewish Film Festival, SJCC, 3801 East Mercer Way, Mercer Island.
Sunday, April 2, 2:00 p.m., University Prep Theater, 8000 25th Avenue NE, Seattle (Wedgwood). Sponsored by Temple Beth Am and Congregation Beth Shalom.
Sunday, April 9, 2:00 p.m., Shalom Club at Trilogy, Redmond.    
Saturday, April 15, 7:30 p.m., Kenyon Hall, 7904 35th Avenue Southwest, West Seattle.
Sunday, April 23, 2:00 p.m., SJCC, 3801 East Mercer Way, Mercer Island.
Sunday, April 30, 2:00 p.m., Microsoft Auditorium, Central Branch, Seattle Public Library 1000 Fourth Ave., Seattle.
Saturday, May 6, 3:00 p.m., Temple B'nai Torah, 15727 NE 4th St., Bellevue.
The Seattle Jewish Theater Company
The mission of the Seattle Jewish Theater Company, now in its seventh year, is to bring classic and contemporary Jewish theater to the Seattle area.
The SJTC typically presents two – three shows a year, performing for over 1,400 people annually.  Previous spring productions have included Morning Star, Beau Jest, From Door to Door, Crossing Delancey, The Last Night of Ballyhoo, and The Last Seder. Summer and Fall productions have included The World of Sholom Aleichem, The Power of Two, Who's On First? and the classic Yiddish play Mirele Efros for the University of Washington.
In September 2014 SJTC entertained 350 people at the Washington State Jewish Historical Society's gala at the Museum of History and Industry, in a program entitled Shalom, Open for Business, in which SJTC actors portrayed Jewish merchants in Seattle in the early years of the twentieth century.
In August 2016 SJTC presented From Door to Door and Jewish History Live for some 800 attendees at the 36th annual convention of the International  Association of Jewish Genealogical Societies at the Seattle Sheraton.
For more information contact,
Art Feinglass, Artistic Director,
Seattle Jewish Theater Company
SeattleJewishTheaterCompany@gmail.com